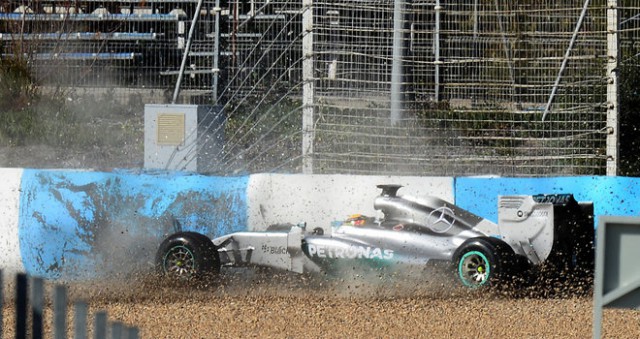 Lewis Hamilton suffered a mishap at the Jerez Circuit during day one testing after he crashed into the barriers at turn 1 of the circuit. The cause of the incident which saw the 2008 champion walk out unhurt was tied to a failure of his front wing spoiler. Lewis was still able to set his best time of 1:27.820 before the incident which was later resolved by the technical team.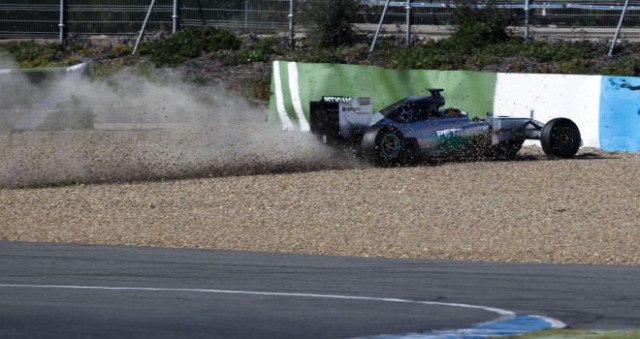 His teammate Nico Rosberg will take over tomorrow in day two of the winter testing session and the team has high hopes especially after today's performance. There is still a lot left to be learned and analyzed by all teams. Earlier on the Marussia team delayed their test debut after their new MR03 F1 car suffered a hitch with the team later reporting that the problem had been resolved.
After walking out of the crash, Hamilton said;
For me it's an incredibly positive start to be the first car out on track and completing a good number of laps. Other teams have been going out for single-lap runs, starting a few hours after we had first hit the track, so to have started running through our test programme was very encouraging. The car feels quite good, especially considering it's so early in our programme, so overall it's been a positive day. Of course, it's unfortunate to end the day early when everyone has worked so hard and we had looked like easily completing the most mileage of anyone here today, but we'll make that track time back and it's better to have these things happen now than in Melbourne. I'm really proud of the team for what they've achieved in getting us here and we'll keep pushing.
[Via Skysports]