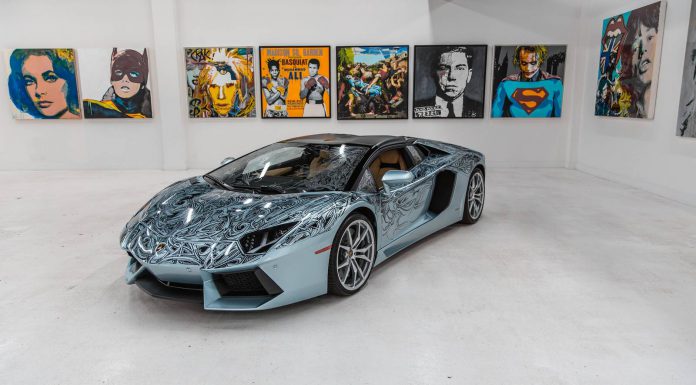 A truly unique 2013 Lamborghini Aventador Roadster is currently up for sale in the U.S. What makes this Aventador Roadster such a head-turner is the fact that it features a completely custom, hand drawn finish with a stunning pattern across the car.
Unlike many supercars in the past we've seen with Sharpie permanent markers over a wrap, this Aventador actually features the black marker right of the standard light blue paint job acting as the perfect canvas.
This Aventador was commissioned by Prive Boutique during Toys For Boys Miami in late last year. Artist Jona Cerwinske took up the challenge during Art Basel Miami. Understandably, the stunning car attracted a lot of attention at the art event and has been displayed across the country since. The in your face pattern stretches across the bonnet, doors, windows, rear decklid and the fenders.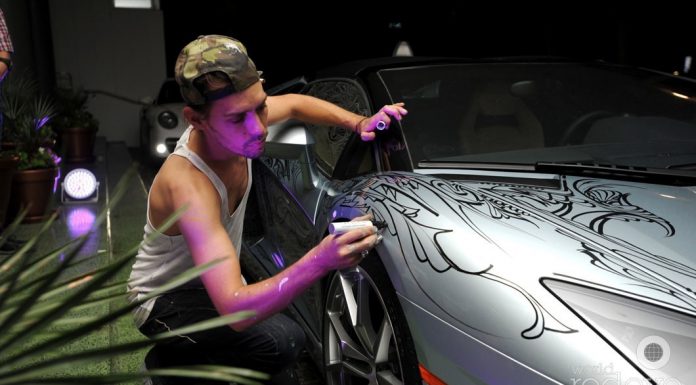 Beneath the custom finish, the Lamborghini Aventador Roadster is brand new having just covered 140 miles since rolling out of the factory last year. As with all Aventadors except the LP720-4 models, this Roadster is fitted with a 6.5-liter V12 engine delivering a potent 692 hp. This power is enough to rocket the car to 100 km/h in just 2.9 seconds and a top speed of around 350 km/h. This acceleration is helped by the all-wheel drive system.
The asking price for this one is $789,999, well over the price of most Aventador Roadsters.
[Via James Edition]