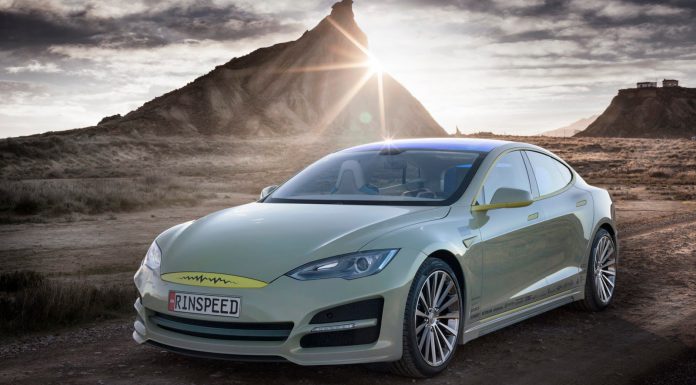 It was only a matter of time before a well-known tuning company began tinkering with the all-electric Tesla Model S. Well, Rinspeed has become the first to do so with its release of the strangely named XchangeE Autonomous Prototype. The car is set for a public debut at the Geneva Motor Show 2014 early next month.
As soon as you glance at the outlandish bodywork, it becomes apparent just how serious a customisation the Rinspeed XchangeE Autonomous Prototype is compared to the standard Model S. It features a new front bumper with horizontal LED daytime running lights, new side skirts, a much more aggressive rear bumper and of course, a light olive green paintjob. This colour scheme is joined by ghastly light yellow accents including the door handles, wing mirrors and window surrounds. Completing the exterior changes are bright, 20-inch wheels.
The most significant and most impressive features however, are found in the cabin. Because the XchangeE Autonomous Prototype is just that, an autonomous car capable of driving itself, Rinspeed turned its focus to providing the very best luxurious occupants could ever wish for to pass the time.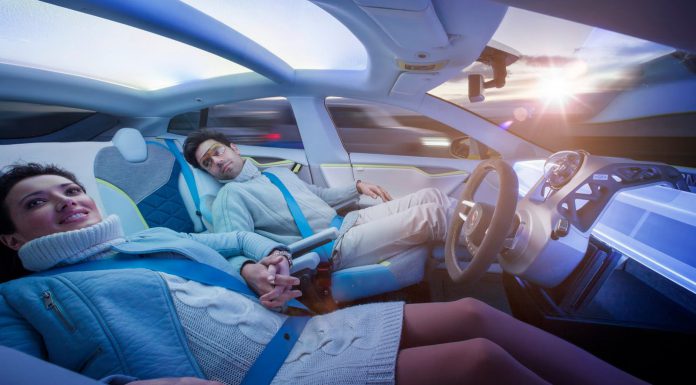 First off, the cabin includes a steering wheel which can be moved horizontally across the dashboard and placed in the centre to provide both the 'driver' and passenger clear views of their own touch-screens pads and an LCD display stretching across the dash. If occupants get bored facing in the way they're travelling, the front two seats can swivel around and face a massive flat-screen TV in the back.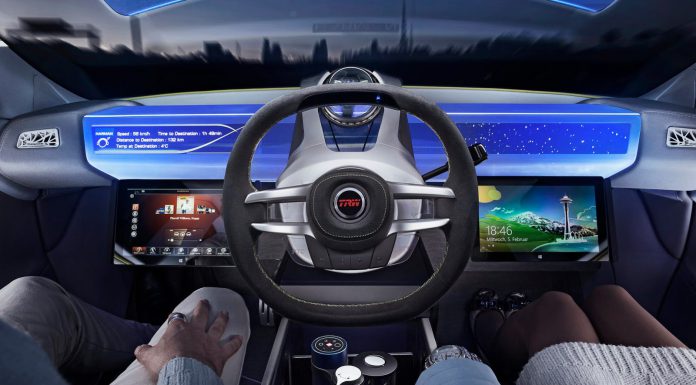 When discussing the interior design, Rinspeed CEO and founder Frank Rinderknecht said, "So far hardly anyone has taken this to its logical conclusion from the perspective of the driver. After all, traveling in a driverless car will no longer require me to stare at the road, but will let me spend my time in a more meaningful way."