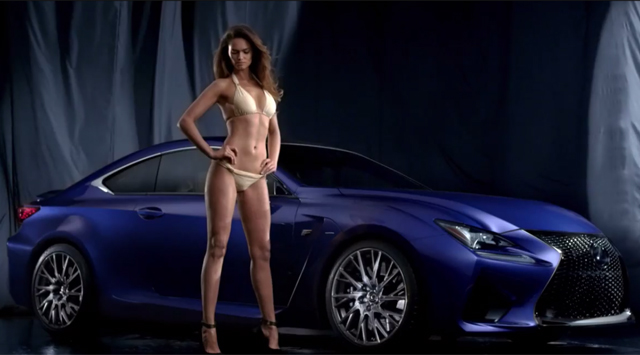 The official promo for the 2015 Lexus RC F Coupe has just been revealed and the Japanese automaker has done its very best to exemplify the unique beauty of the car with it joined by a stunning Sports Illustrated swimsuit model in the car's official commercial!
[youtube]http://www.youtube.com/watch?v=4T3phxIWAmQ[/youtube]
In case you needed reminding, the Lexus RC F Coupe gets its roar from more than 450 horsepower and more than 383 pound-feet of torque all courtesy of an all-new 5.0-liter 32-valve V8 engine that will provide increased maximum power at higher engine rpm than previously possible. This engine is the most powerful V8 engine the Japanese marque has ever constructed. Lexus say that the car should weigh in at under 1,800 kilograms. The RC F will be limited to a top speed of 270 km/h.
Inside, the striking cockpit-like interior of Lexus RC F complements the aggressive exterior with its superbly crafted cabin. There are a number of unique components including the gauges, steering wheel, seats and pedals. The instrument panel is dominated by a central gauge which changes according to the four selectable driving modes, again like that of the LFA.
The closest rival to the RC F will of course be the 2014 BMW M4, which produces 431 hp but weighs just 1,500 kg.