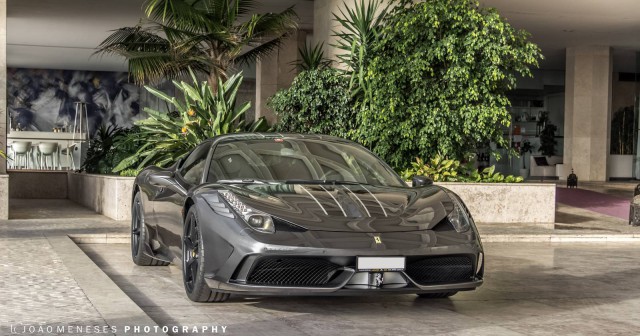 Customer deliveries of the Ferrari 458 Speciale began a few weeks back and it has been very interesting to see the wide variety of colour specification that have been ordered. The aggressive scoops, ducts and inlets of the car look great but darker colours see to suit the cars design and the traditional red cars seem to be less popular than previous generations.
Here we have a dark grey car car complemented by black NART (North American Racing Team) stripes. The black stripes match the matte black lightweight wheels. The car was spotted at the decadent Hotel Cascais Mirage, Portugal by photographer Joao Meneses Photography
n case you needed reminding, the Ferrari 458 Speciale features a modified variant of the regular 458 Italia's 4.5-liter V8 engine. In Speciale guise, it delivers a total of 597 hp and 398 lb-ft of torque thus making it the most powerful naturally aspirated V8 engine ever produced by Ferrari. What's more, Ferrari claims that thanks to it delivering 133hp per liter, it has the highest ever per liter output of a road-going naturally aspirated engine. Maximum power is achieved at 9000 rpm while max torque is reached at 6000 rpm.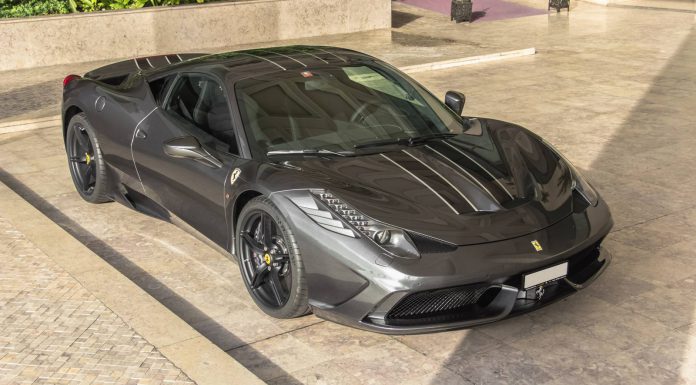 The Ferrari 458 Speciale tips the scales at just 1290 kg and Ferrari consequently claims a sprint time to 100 km/h in just 3 seconds and the car can then hit 200 km/h in just 9.1 seconds. What's more, Ferrari claims that the Ferrari 458 Speciale can sprint around the Fiorano test track in just 1:23.5 seconds thus making it 1.5 seconds faster than the standard car and just .5 seconds slower than the Ferrari F12 Berlinetta.