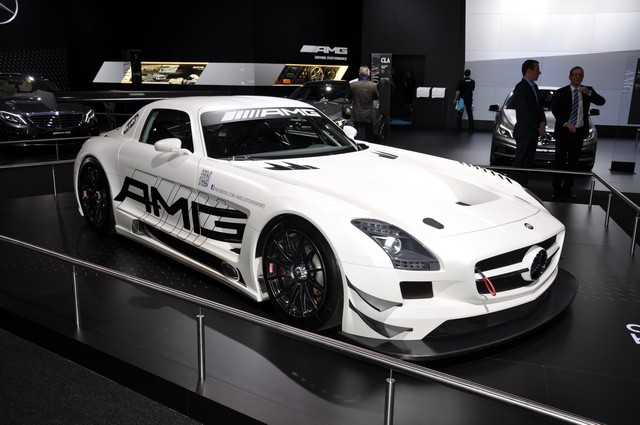 Beside the European premieres we yet showed you, the Brussels Motor Show has more to offer. Then of course we think of two main manufacturers from Germany, Audi and Mercedes-Benz and prestige marks from the United Kingdom, Bentley and Aston Martin.
Mercedes-Benz was clearly in a positive mood when they made their selection for the Brussels Motor Show. No less then 7 models from the AMG range were selected to be shown to the public. We've spotted a SL 63 AMG, a E 63 AMG, a CLS 63 AMG Shooting Brake, an A 45 AMG, a CLA 45 AMG, a S 63 AMG, the G 63 AMG and last but not least a SLS AMG GT3 edition.
Audi also brought some nice machinery from Ingolstadt to the show. With probably one of the best breaks on the market on the moment, read all about in our test, the RS6 Avant was the most eye-catching. Next to that we also spotted a RS7, S5 with a new color and the Audi R8 V10 which is almost at the end of its lifetime. The R18 e-tron Quattro was there to bring extra attention to Audi Sport.
Aston Martin brought only three models to the capital of Belgium. Aston's four door saloon, the Rapide, was flanked by a V12 Vantage S and the brands flagship, the Vanquish Volante.
To conclude our report of report from Brussels we can state that Bentley was well represented with the European premiere of the limited edition Birkin Mulsane and the Belgian premiere for the Continental GT V8 S Convertible. Next to those two the British brand also had the new Flying Spur and a Continental GT V8 coupé on display.