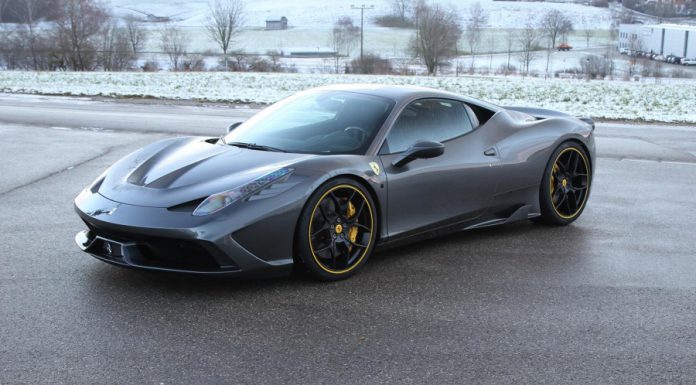 While the Ferrari 458 Speciale has only been on the market for a couple of weeks, the experts over at Novitec Rosso have already got their hands on a grey 458 Speciale and upgraded it with their Stage 1 performance package.
Whereas the standard Speciale delivers 600 hp, the Ferrari 458 Speciale Stage 1 by Novitec Rosso sees power upgraded to 622 hp at a truly dizzying 9,200 rpm. The car has then been fitted with custom Novitec NF4 forged wheels finished in black with a bright yellow rim as well as blacked out taillights. Other than these changes, the Novitec Rosso 458 Speciale remains standard. However, that's certainly not a bad thing.
A key piece of technology featured on the Ferrari 458 Speciale is the Side Slip Angle Control system. Abbreviated as SSC, the electronic system uses a special algorithm to analyse the slip angle of the Ferrari 458 Speciale. It then compares it to a target figure and then helps optimise torque distribution between the two driven wheels. What this creates is absolutely seamless slides and maximum traction when it is needed.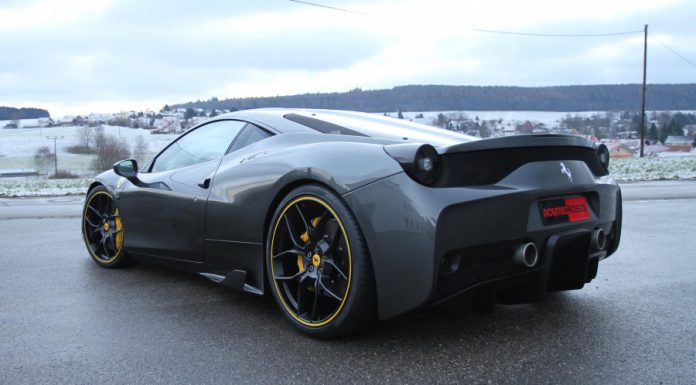 In standard form, the 458 Speciale hits 100km/h in just 3 seconds and the car can then hit 200km/h in just 9.1 seconds. What's more, Ferrari claims that the Ferrari 458 Speciale can sprint around the Fiorano test track in just 1:23.5 seconds thus making it 1.5 seconds faster than the standard car and just .5 seconds slower than the Ferrari F12 Berlinetta.