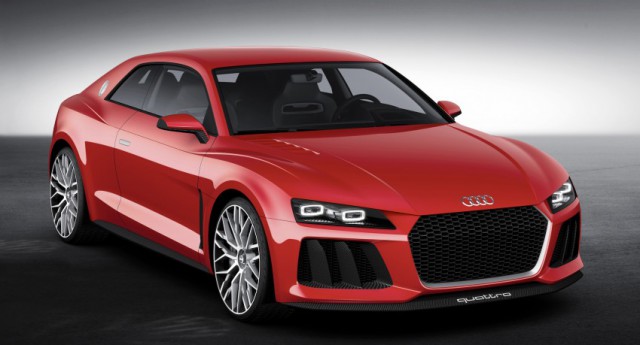 When first launched in its second-iteration at the IAA Frankfurt Auto Show in September last year, the Audi Sport Quattro featured a trick hybrid system delivering around 700 hp. However, recent reports suggested that if the car ever made it to the production line, that powertrain would be ditched for a smaller five-cylinder engine delivering about half the horsepower.
Now, new rumours have surfaced indicating that the car would be produced as Audi's premier performance GT and slot nicely between the TT and R8. However, with both the Audi TT and Audi R8 set for next-generation models within the next 12-18 months, it would make sense for Audi to wait until they're launched before committing to the Sport Quattro project.
One of the little talked about features of the Audi Sport Quattro Concept was the fact that it featured the automaker's versatile MLB platform set to be used in a selection of different Audi models in the coming years. As a result, there are lots of options for the Sport Quattro and it all comes down to what Audi thinks is best.
While recently speaking about the car, Audi technical chief Ulrich Hackenberg said, "There are many driveline possibilities for the car. It has a lot of potential due to the platform, one of them very powerful. If we have a car on the modular system, we can take other drivelines. It has a potential for bigger volume. To make this car requires a big investment, and it makes sense for us to widen its potential."
[Via Autocar]