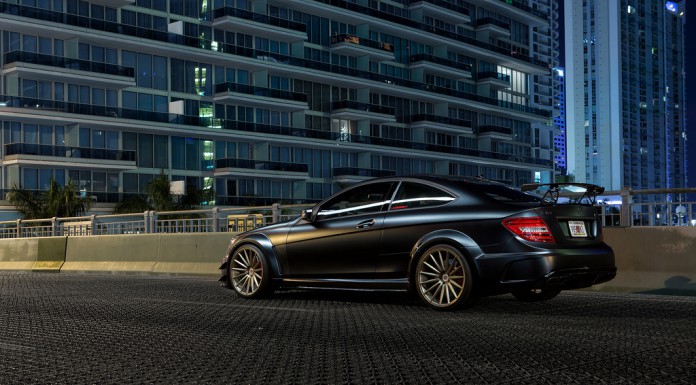 The Mercedes-Benz C63 AMG Black Series is a stunning, insane, bonkers creation for the special operation trick Black Series division at AMG. The standard C63′s respectable 451 hp is dwarfed by the Blacks 517 hp and it is also 2 tenths of a second quicker to 100 km/h.
The car looks like it has been on steroids, a wide car that looks menacing in any colour, especially in matte black with the track package that we see on this car.
The wheels are a total in-house creation by Vossen and are lightweight forged. As seen in the video, they look incredible especially when spinning at high speed. Stocked with carbon fiber accents inside and out, the rear wing is also part of the package, helping to add the needed downforce to the back of the vehicle. It's a well put together combination on many levels.
[youtube]http://www.youtube.com/watch?v=mz3fC0CT8rM[/youtube]
The epic video above is a must see, a true representation of the aggression of the Black and the beauty of the Vossen wheels, there's even a very attractive model driving the car!