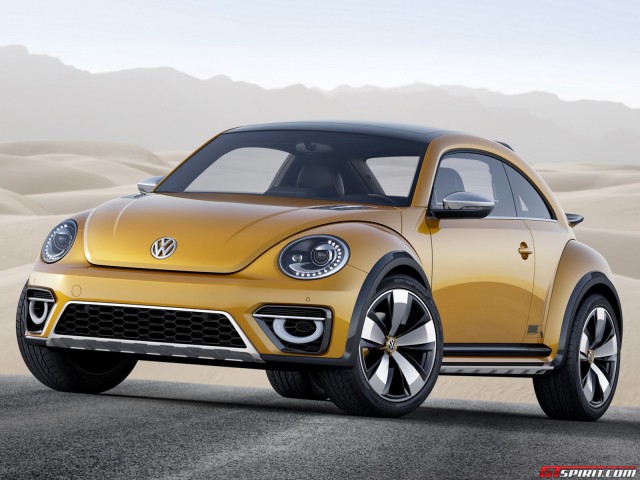 Just after releasing sketches of the brand new Beetle off-roader, the 2014 VW Beetle Dune Concept has officially been revealed before the Detroit Motor Show 2014! As we previously mentioned, the new Beetle Dune Concept isn't the first time Volkswagen has ventured down this path for its compact city-car, as in 2000, a similar concept was presented.
As you would imagine, in order to make the new VW Beetle Dune Concept worthy of its name, it features raised suspension and much larger wheels and tyres. Additionally, the Dune Concept features flared wheel arches and at the front, a new tapered silver splitter, newly designed grille as well as semi-circular LED daytime running lights.
Additional styling changes include a black roof, black roof spoiler and a black ducktail spoiler. Finally, the VW Beetle Dune Concept features black accents across the exterior, smoked taillights and a new rear bumper.
Moving to the cabin, the VW Beetle Dune Concept features a host of yellow panels matching the exterior paint job. A very sporty, flat-bottomed steering wheel is the centre piece for the cabin with an infotainment and navigation system and a host of grey and white leather completing the upgrades.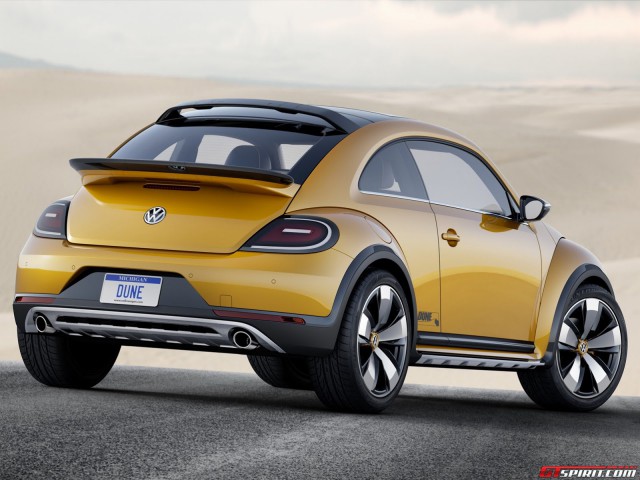 Under the hood, the Beetle Dune Concept is powered by a turbocharged 2.0-liter engine delivering a total of 207 hp and mated to a six-speed DSG transmission driving the front wheels. As a result, it will hit 100 km/h in just 7.5 seconds before topping out at 225 km/h. However, a car like this isn't meant for straight line speed and is all about venturing off the road and into rugged terrain.
Reports have previously emerged suggesting the VW Beetle Dune Concept could reach production.