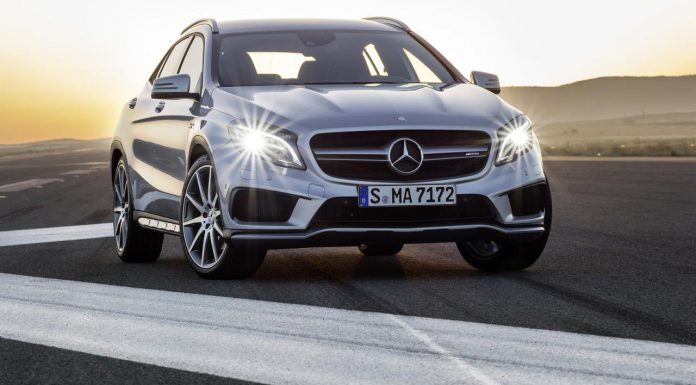 The Mercedes-Benz GLA-Class is another new niche-busting car to come from the German marque. The car, essentially a taller and slightly larger A-Class hatchback, promises to fill the gap between off-road vehicles and small nippy hatchbacks, a 'compact SUV'. The Mercedes-Benz GLA 45 AMG promises to add another characteristic to the car. Speed and lots of it!
The Mercedes-Benz GLA 45 AMG impresses thanks to its tiny AMG 2.0-litre turbo engine. In the GLA 45 AMG it delivers a more than adequate 360 hp and 331 lb-ft of torque transferred to a 4MATIC all-wheel drive system via a seven-speed AMG Speedshift DCT transmission. Thanks to this combination, the GLA 45 AMG accelerates from zero to 100 km/h in 4.8 seconds and reaches a top speed of 250 km/h (electronically limited).
In terms of efficiency, the Mercedes-Benz GLA 45 AMG will sip just 7.5 litres per 100 kilometres of fuel. Quite incredible given the performance figures of the car. Mercedes say the GLA 45 AMG is the third vehicle with four-cylinder turbo engine to appeal to a young target group, in addition to the A 45 AMG and the CLA 45 AMG.
The GLA 45 looks fantastic. Its strong muscular lines hint to the performance and capability of SUV without making the car look overly cumbersome and overweight. Inside it is typical Mercedes-Benz. It is instantly apparent that this car is closely related to the A 45 hatchback as the car features much of the same switch gear and many of the same features including the stunning sports seats and red highlights that dazzle throughout the cabin.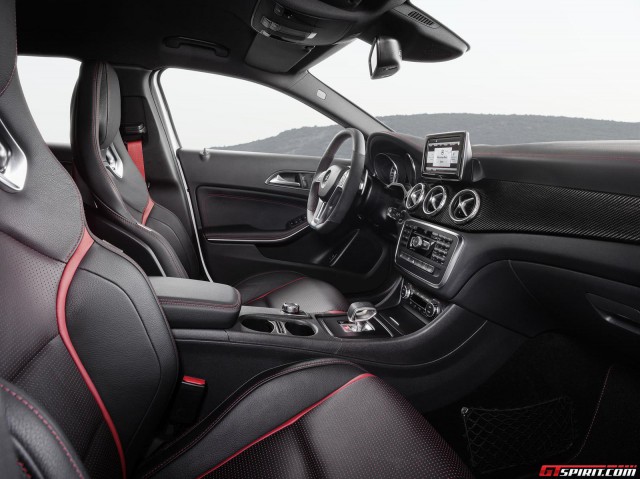 The options list, as with all Mercedes-Benz cars, is extensive and carbon fiber trim not only for the interior are available including the mirror housings. What we are most intrigued about is the optional Aerodynamics package that consists of a larger front splitter, additional flics on the front apron, rear spoiler and 'Night package'. We are sure this will make the car look even more aggressive than it already looks!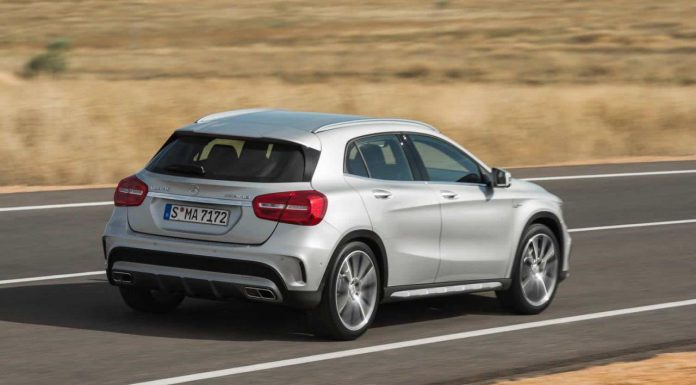 We can't think of many cars that the GLA 45 will be competing with other that the Audi RS Q3, which we recently drove, and Porsche Macan, stiff competition indeed but we are sure that the GLA 45 will shine strong with its hand built AMG built engine and stand-out looks. We will be seeing the car at the upcoming Detroit Motor Show so stay tuned with GTspirit for more!