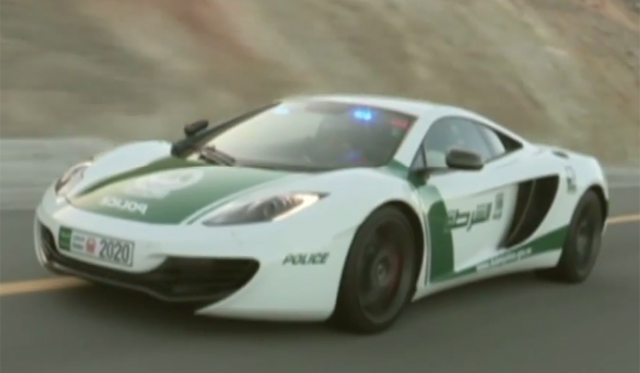 Just a few days after posting a rendered image online, the Dubai Police Force have officially unveiled their brand new McLaren 12C in a selection of exciting videos!
As the recent rendering showed, the McLaren 12C is wearing the police force's traditional green and white livery. Additionally, it features all the flashing red and blue lights and sirens you would expect from any police car.
[youtube]http://www.youtube.com/watch?v=7ELQf-lc1FA[/youtube]
This year, the Dubai Police Force has stamped its authority of crime in the region by unveiling supercar after supercar to join its ever-expanding fleet. Just some of these cars include an Audi R8, Brabus Mercedes-Benz G-Class, Mercedes-Benz SL63 AMG, Lamborghini Aventador, Ford Mustang, Chevrolet Camaro SS, Aston Martin One-77, Mercedes-Benz SLS AMG and a Bentley Continental GT.
[youtube]http://www.youtube.com/watch?v=KJmmMR2jLK8#t=223[/youtube]
As it stands, most of the aforementioned supercars which have become a part of the Dubai Police's inventory are used for promotional purposes rather than fighting crime and this 12C is likely to be be tasked with a similar job.
[youtube]http://www.youtube.com/watch?v=e1omeQF7c-k#t=44[/youtube]
However, if the Dubai Police ever decided to put it on the front line in police chases, it could prove quite handy. Under the hood, it is powered by a M838T 3.8 liter twin turbo V8 engine delivering 616 hp at 7,000 rpm and 600 Nm between 3,000 and 7,000 rpm. This power and torque offers a sprint from zero to 100 km/h in 3.3 seconds (3.1 seconds with corsa tires) and zero to 200 km/h to 9.1 seconds (8.9 seconds with corsa tires). The engine sits behind the cockpit, with a seven-speed, Italian-made Graziano twin-clutch transmission attached to the back.