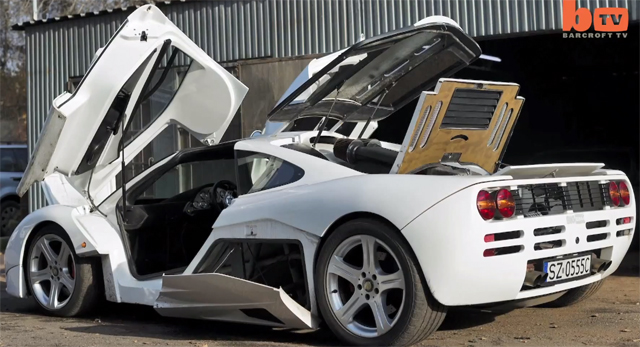 Just yesterday, we brought you the video of a cheap McLaren F1 replica based on a Toyota MR2. Now, images and videos of a much more convincing F1 replica have emerged with this particular car being built from the ground up by one dedicated McLaren fan in Poland.
[youtube]http://www.youtube.com/watch?v=cy9pKFLy6u4#t=41[/youtube]
The man behind the car, Jacek Mazur, has spent an extraordinary eight years working on the car and all up, claims to have only spent $32,862 on creating the car. He managed to source and fit a genuine BMW V12 engine similar to the engine found in the original McLaren F1. When combined with the sleek body, Mazur claims it can reach a top speed of 320 km/h, around 60 km/h less than the original.
Fortunately, going into his F1 replica project, Mazur already had quite a few garage built cars under his belt with a selection of Porsche and Lamborghini replicas. He put his expertise to good use when creating the brand new tubular chassis. Mazur even managed to mimic the original central driving position of the F1. In the real F1, a further two seats are then placed in the back of the cabin. However, Mazur managed to make it a four seater by placing a tiny seat directly behind the driver.
[youtube]http://www.youtube.com/watch?v=AP5b6u-OMFI[/youtube]
For those thinking it would have been more beneficial to just work extremely hard in the past 8 years to afford a real McLaren F1, Mazur said, "In some ways it is actually better having a replica. The real thing is so expensive I would be afraid to take it anywhere for fear of getting it dirty."
[Via Daily Mail]