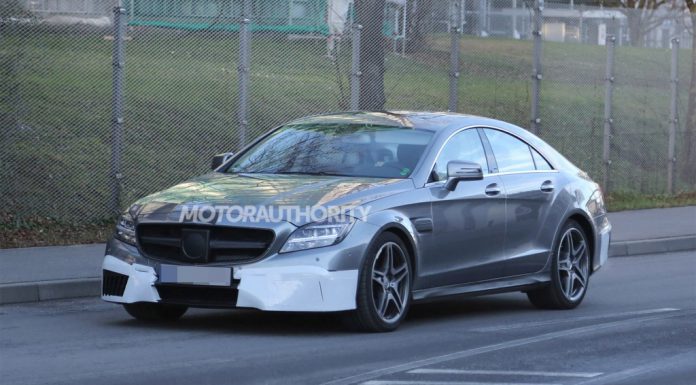 The facelifted 2015 Mercedes-Benz CLS 63 AMG has been spied testing yet again. However, this time it is wearing slightly less camouflage than previously. As a result, we get our best look at the new car thus far and based on these spy pics alone, visual changes will be quite minor.
More specifically, the 2015 Mercedes-Benz CLS 63 AMG will feature brand new front and rear bumpers. The new front bumper is expected to incorporate larger dual air intakes. Additionally, the new CLS 63 AMG will incorporate a slightly modified front grille which has only been hidden with a bit of tape in the above spy shot. At the rear of the facelifted car, will be the aforementioned new bumper as well as a slightly modified diffuser.
Under the hood, the 2015 Mercedes-Benz CLS 63 AMG will be powered by the same AMG twin-turbocharged 5.5-liter V8 engine as the outgoing model. In the current car, that potent engine produces 525 hp in standard specification and 557 hp with the AMG Performance Package. However, the facelifted CLS 63 AMG is expected to match the new E63 AMG in terms of power. As a result, expect to see the base model pumping out around 550 hp and a possible CLS 63 AMG S variant delivering 577 hp like the E63 AMG S.
Mated to this engine is expected to be the same seven-speed AMG Speedshift automatic as the current car. This gearbox will then power the rear wheels or all four wheels depending on specification and location.
[Via Motor Authority]