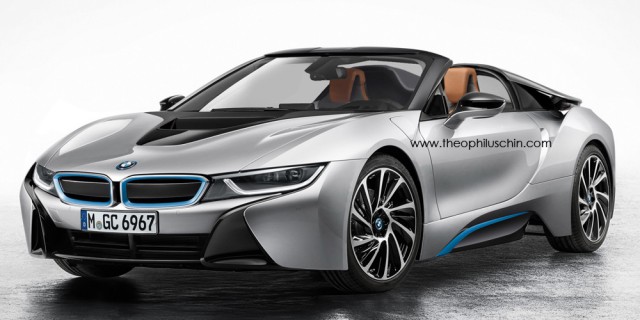 According to new reports, the BMW i8 Spyder has been given the green light for production in 2015 following a private unveiling of a production spec i8 Spyder at the company's headquarters in Germany.
This latest development shouldn't come as a great surprise considering that BMW revealed an i8 Spyder Concept early last year. It is claimed that the production-spec i8 Spyder which was privately displayed last week was finished in Solar Orange and featured blue highlights. With an official introduction pinned in for late 2015, it is possible that the production spec i8 Spyder could debut at a major motor show in early 2015.
BMW i8 Spyder Concept

Under the hood, it will remain identical to the i8 coupe. The standard i8 features a brand new three-cylinder petrol engine with BMW TwinPower Turbo technology. From 1.5 litres, the i8 manages an output of 231 hp, a maximum torque of 320 Nm and features rear wheel drive. Power is sent to the rear wheels via a six-speed automatic gearbox. The petrol engine is supplemented by an electric motor with an output of 131 hp and maximum torque of 250 Nm. The power from this lithium-ion high-voltage battery is channelled through the front wheels via a two-stage automatic transmission.
The combinations mean that the BMW i8 is able to produce 362 hp maximum power and 570 Nm of torque. Performance from 0 to 100 km/h is just 4.4 seconds with both engine and electric motor engaged. The BMW i8 manages economy figures of 2.5 litres per 100 km or 113 mpg in imperial measurements.
[Via Bimmer Post and Theophilus Chin]