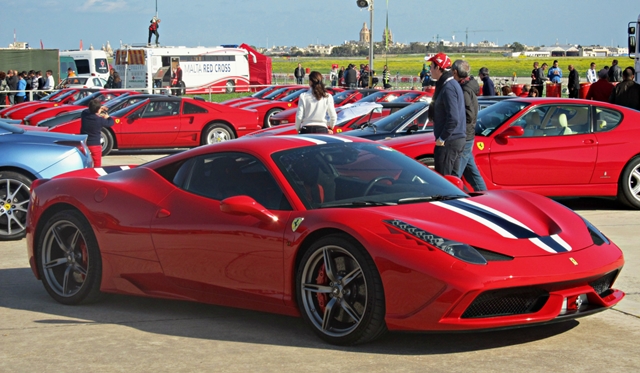 The brand new successor of the Ferrari 430 Scuderia, the Ferrari 458 Speciale is a highly coveted object for nearly all supercar enthusiasts. On the 8th of December, supercar lovers had the opportunity to experience the Ferrari 458 Speciale during the one and only huge annual supercar event in Malta, the Paqpaqli Ghall-Istrina.
[youtube]http://www.youtube.com/watch?v=b01Ac0-FW9k [/youtube]
As you can see in the video above, the driver pushed the Ferrari 458 Speciale hard and shows some heavy burnouts and accelerations for the spectators which were assembled around the airfield.
As a reminder, the Ferrari 458 Speciale features a modified variant of the regular 458 Italia's 4.5-liter V8 engine. In Speciale guise, it delivers a total of 597hp and 398lb-ft of torque thus making it the most powerful naturally aspirated V8 engine ever produced by Ferrari. What's more, Ferrari claims that thanks to it delivering 133hp per liter, it has the highest ever per liter output of a road-going naturally aspirated engine. Maximum power is achieved at 9000rpm while max torque is reached at 6000rpm.
Another new piece of technology featured on the Ferrari 458 Speciale is the Side Slip Angle Control system. Abbreviated as SSC, the electronic system uses a special algorithm to analyse the slip angle of the Ferrari 458 Speciale. It then compares it to a target figure and then helps optimise torque distribution between the two driven wheels.