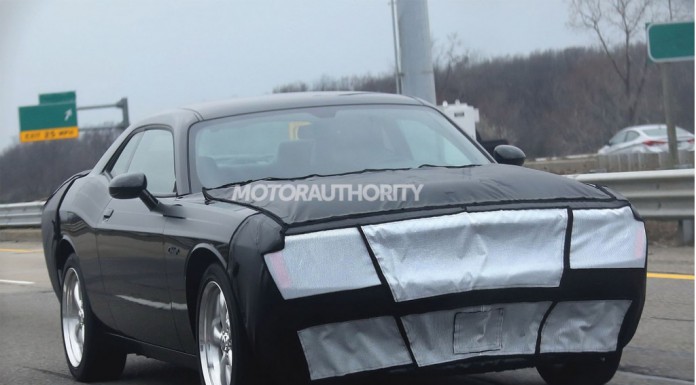 With the 2015 Ford Mustang literally just hours away from being revealed and recently leaked, Dodge certainly has to step up its game for the 2015 Dodge Challenger. Thankfully it is doing just that and a new next-generation Challenger prototype was recently spied under heavy camouflage in the U.S.
Because this camouflage is so extensive at the front and at the rear, we can only expect to see a facelifted model rather than a completely overhauled Challenger like the 2015 Mustang will be over the outgoing model. Nevertheless, quite dramatic changes are likely to appear at the front end of the new muscle car including a new front bumper, headlights and possibly a reshaped hood. At the rear, a new bumper is also expected as are revised taillights.
Under the hood, the 2015 Dodge Challenger is expected to largely maintain the same engine line-up as the outgoing model. That will include a 305 hp V6 engine in the base model, while the mid-range is predicted to maintain the current car's HEMI V8 delivering 375 hp. Most impressively however, will be the brand new Hellcat V8 engine predicted to pump out over 600 hp thanks to its supercharged goodness!
This supercharged 6.2-liter V8 has been described as a "last hurrah" for the company before fuel economy standards limit horsepower outputs for American manufacturers. The engine will be built alongside the 5.7-liter and 6.4-liter Hemi V8s currently produced by Chrysler.
[Via Motor Authority]