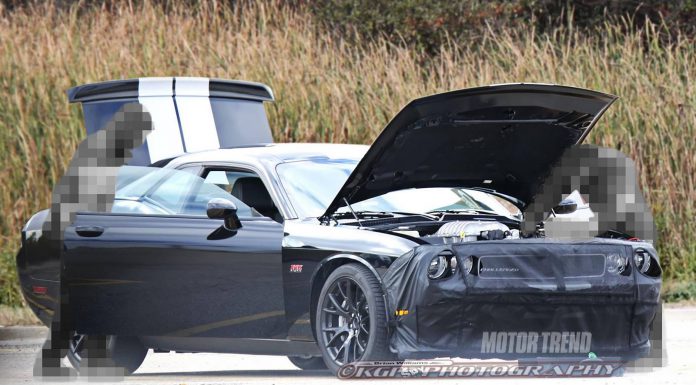 The upcoming 2015 Dodge Challenger SRT8 has been spied testing yet again with minimal camouflage and sporting the company's all-new Hellcat Hemi V8 engine.
What's more significant about this prototype is that it was spotted with its hood up showcasing the massive supercharger sitting on top of a potent 6.2-liter V8 engine. With rivals Chevrolet and SRT continually upgrading their potent V8 powerplants, with SRT's latest engine found in the SRT Viper producing 640hp from its ten cylinders, the Chrysler Group has been forced to fight back and is currently developing a new supercharged Hemi V8 engine. Currently codenamed the 'hellcat', the 6.2-liter supercharged V8 engine will reportedly produce over 600hp.
The following 2015 Dodge Challenger SRT8 was spotted with very little camouflage with only the front end being covered. It's believed that underneath this camouflage hides lower air intakes.
At the moment, it's believed that the current Dodge Challenger will remain on sale until 2014 before it's replaced by the next-generation Challenger likely to be the first to adopt the larger V8 powerplant.
The supercharged 6.2-liter V8 has been described as a "last hurrah" for the company before fuel economy standards limit horsepower outputs for American manufacturers. The engine will be built alongside the 5.7-liter and 6.4-liter Hemi V8s currently produced by Chrysler.
[Via Motor Trend]