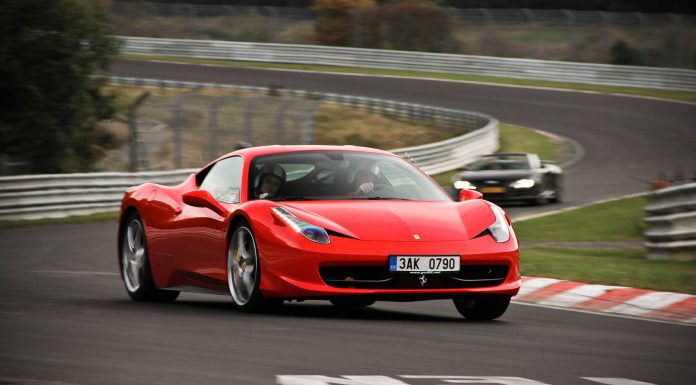 The Ferrari 458 is a beautiful, usable and very capable supercar. Its all round abilities mean that the car is happy to tootle around town and take you to the local supermarket with relative ease, if kids were not pointing and adults snapping away with their camera phones you could convince yourself you were on a low slung, slightly harder than average saloon car. But then you take a look the the delicate Manettino switch and you twist it into race. Now you're slinging the 458 into its element, the exhaust buzzes and howls and the car becomes a lot sharper and feels alive.
The Ferrari's lightweight design and 4.5liter V8 produce 562bhp and an engine tone that will melt your ears and get your heart racing. The 458 will smash past 100km/h in just 3.4 seconds onto a top speed of 325 km/h all whilst producing drama that only a Ferrari can!
This epic shot was captured by GTspirit photographer Mitch Wilschut at the infamous Nurburgring.