The Lamborghini Veneno Roadster is no ordinary car, the UAE certainly is an extraordinary market for supercars and as a result, when the two came together quite an epic show was put on! The Veneno Roadster was unveiled on a fully functioning Warship, an entrance that certainly impressed!
With the Veneno Roadster, Lamborghini is once again aiming for an extreme reaction. The company promises nine examples for delivery during 2014. Each customer will pay the sum of 3.3 million Euros plus taxes (as near as makes no difference 4 million Euros!). Don't expect to rock up at your local Lamborghini dealership with the funds though, all nine are rumored to have been sold!
So what do you get for your money? The package is very similar to the Veneno which itself, takes inspiration from the Aventador. The engine is the Aventador's new 6.5 litre V12 unit, uprated to 750 hp in the Veneno Roadster. Power is driven through an all-wheel drive system via a modified ISR transmission. Five settings are available with pushrod suspension and horizontal sprint/damper units.
The Lamborghini Veneno Roadster is technically advanced. It features a monocoque made from carbon-fiber reinforced polymer. All body components are also CFRP making it extremely lightweight. It is compliant with all road safety regimes worldwide and features a full raft of safety features from airbags through to adapted ESP handling system.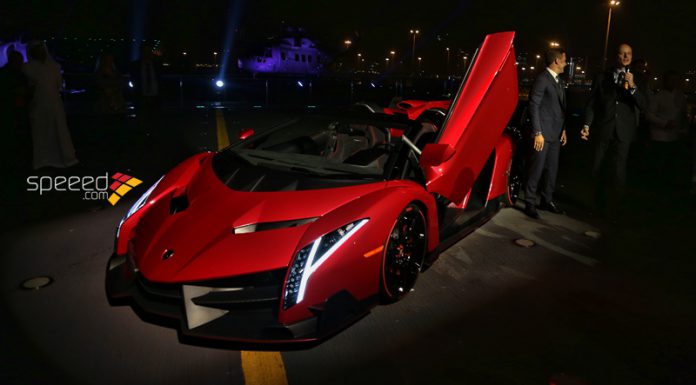 Performance is curbed ever so sightly over the Veneno Coupé. The Veneno Roadster accelerates from 0 to 100 km/h in 2.9 seconds (0.1 slower than the Coupé), top speed stands at 355 km/h. As we explained yesterday, the Roadster weighs just 1,490 kilograms with a a power-to-weight ratio of just 1.99 kg/hp (4.38 lbs/hp).
In terms of design, Lamborghini claim that the extreme styling of the Veneno Roadster is down to aerodynamics. Both airflow and downforce are optimised in a number of key areas. The front and rear wings act to apply high levels of downforce to the car. The undercarriage is smooth and transitions into an efficient diffuser.
The wheels are even custom designed for efficiency. A carbon-fiber ring around the wheel rim works like a turbine to deliver additional cooling air to the carbon-ceramic brake discs. The paint colour, "Rosso Veneno" was developed exclusively for the Veneno Roadster, owners will also be able to customise their cars with their own choice of colour.
[Source: Speeed.com]