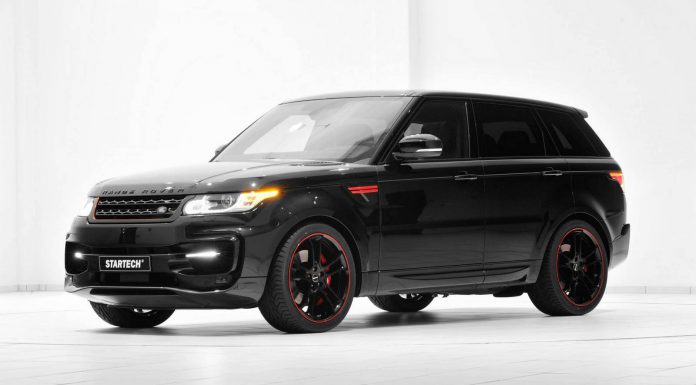 Today at the Essen Motor Show 2013, Startech introduced their new Widebody Range Rover Sport. The Brabus Group company is among the first to present a bespoke package for the British four-by-four. The Startech kit adds aerodynamic enhancements, wheels, suspension components, performance enhancements and a new exhaust system!
The bodykit is manufactured in OEM quality from PUR-R-Rim. It includes a Startech front bumper, wide wheel arches, a rear facia complete with air ducts and a central diffuser. The clear-coated carbon fiber diffuser incorporates tailpipe trim with two openings on each side. The Startech stainless-steel sport exhaust system gets a butterfly valve and a distinctive design.
Owners of the turbo diesel Range Rover Sport can opt for the Startech PowerXtra SD30 S performance kit, which boosts power output of the 3.0 SDV6 turbo diesel model by 31 hp while bumping peak torque by 80 Nm. The SD30 S tuning kit consists of a processor-controlled plug-and-play auxiliary control unit and can be fitted in just 90 minutes.
Startech offers various tire/wheel combinations in size 10Jx22 front and back for the Range Rover Sport. The one-piece Startech Monostar R five-spoke wheel are displayed here with black wheel finish and polished contours. It also comes in a version with a red pinstripe on the rim flange. Tires in size 285/35 R 22 front and back were selected. Alternatively customers can opt for the one-piece Monostar IV 10Jx22 wheel.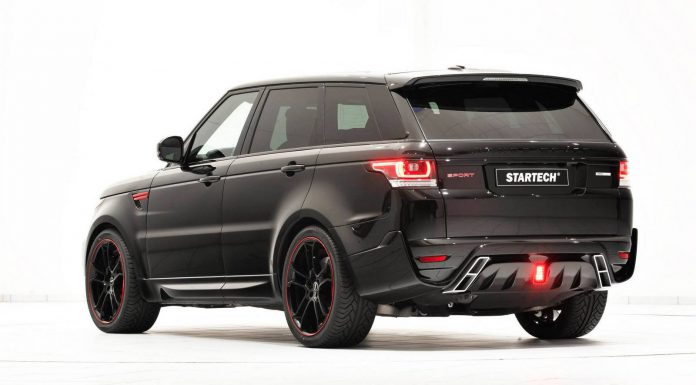 The electronically controlled Startech suspension lowers the ride height of the SUV by 25 millimeters compared with the production car.All Startech products are offered with a warranty of three years and up to 100,000 kilometres.
As you would expect, Startech offer a wide range of interior enhancements. The Essen Motor Show car features the production leather interior with Startech-designed instrument panel and the door panels, which feature fine black nappa leather highlighted with red contrasting topstitching. The rich red color is also found on the leather edging of the floor mats, the wheels and the red-painted gills of the air vents in the front fenders.