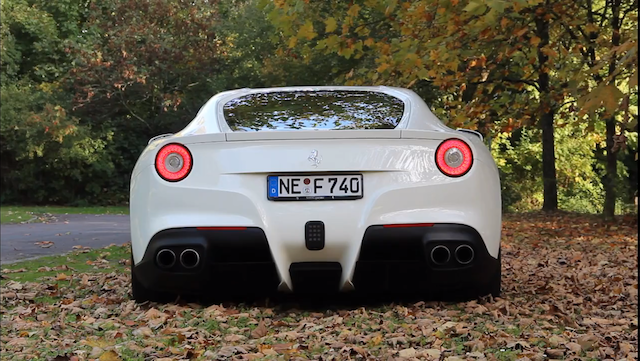 The Ferrari F12 is ballistically fast. The V12 Ferrari produces a remarkable amount of power that can prove to be tricky to handle if you dare to turn of the electronic aids and mash the accelerator pedal to the floor at low speeds. The F12 is about going fast and where better to do that than the unrestricted parts of the German Autobahns! This video captures this white example travelling at over 300km/h. The speeds can be read from the very cool passenger information readout on the F12.
[youtube]http://youtu.be/y4IVY_9I-BA[/youtube]
The F12′s V12 produces 730 hp at 8500 rpm and 509 lb·ft of torque at 6000 rpm, making it the most powerful road-legal Ferrari to date, only surpassed by the new LaFerrari hypercar. This results in the F12 to accelerate from 0 to 100 km/h in an officially reported 3.1 seconds.