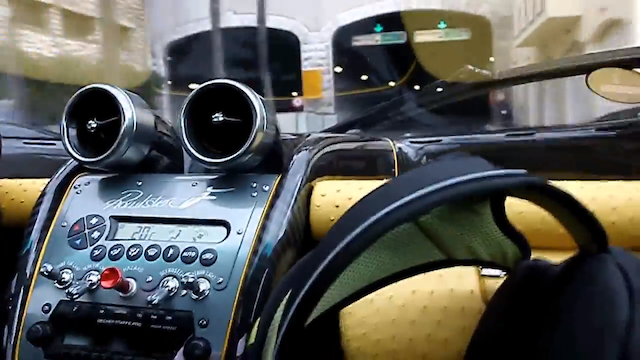 The Pagani Zonda F Clubsport was first revealed in 2006 at the Geneva Motor Show. The Coupe and the Roadster were very similar and the F Clubsport adding an extra dimension by having a removable carbon fiber and canvas room meaning that driver and passenger could experience the Clubsports titanium exhausts at full volume, an experience I'm sure would cause the hairs on the back of the neck to stand up as the 7.3 litre AMG built V12 screams its way to 7,000 rpm.
[youtube]http://youtu.be/IN1BJCOzjy8[/youtube]
Pagani claims the Roadster weighed just 35 kg more than the coupe resulting in a 1,230 kg kerb weight and when combined with the 650 hp, the predominantly carbon built Zonda will launch toward the horizon and reach 60mph in 3.6 seconds and if the driver wills to a top speed of 215 mph. The car impressed Top Gear enough for them to put head to head with the mighty Bugatti Veyron and around the track the lighter Zonda was quicker than the 1001 hp Veyron, proving power is not everything!
GTspirit Road Test of Pagani Zonda F

Here we see a video filmed in Monaco that features a rather unique Pagani Zonda F Roadster with a yellow ostrich leather interior! Enjoy the video, it sounds fantastic! Also be sure to check out our road test of the Zonda F Coupe with the legend that is Horacio Pagani himself!