As many of you already know, AAA Luxury & Sport Car Rental offers a amazing selection of current supercars which everybody can rent. As a result, the company allows supercar enthusiasts like ourselves to fulfill our dreams of driving cars like this one!
At the moment they are offering current supercars like the Lamborghini Gallardo LP570-4 Performante, the Mansory Siracusa, the Ferrari F12 Berlinetta, the Lamborghini Aventador and much more.
Thanks to AAA Luxury & Sport Car Rental we had the unique possibility to meet one of the rarest modified current supercars, the Mansory Siracusa which is based on the Ferrari 458 Spider. As you can see in the gallery below we organised a little photoshoot at the famous Port Hercule in Monaco.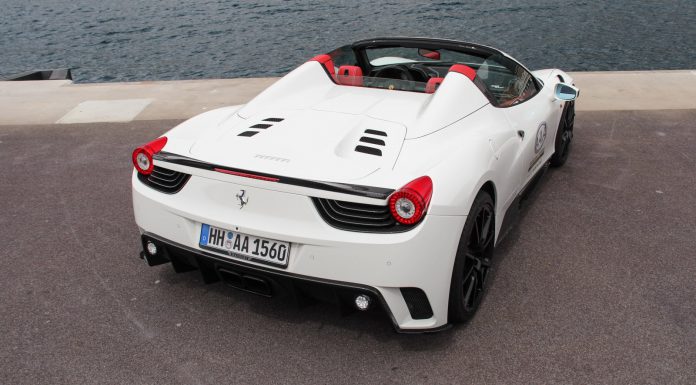 Furthermore we had a short test drive on the passenger seat on the well-known F1-circuit in Monte-Carlo. Unfortunately dense traffic prevented some fun in the tunnel as well as small accelerations.
[youtube]https://www.youtube.com/watch?v=K6OUEhjpS4M[/youtube]
The German tuner Mansory added ultra-light and high-strength carbon fiber on the complete vehicle. The body kit of the Mansory Siracusa features a new front apron with optimized air inlets for a better ventilation. In combination with the new bonnet it also generates additional downforce. At the sides, newly designed skirts were added which calm down the air flow between the axles and provide additional cooling to the engine compartment through the new integrated ducts.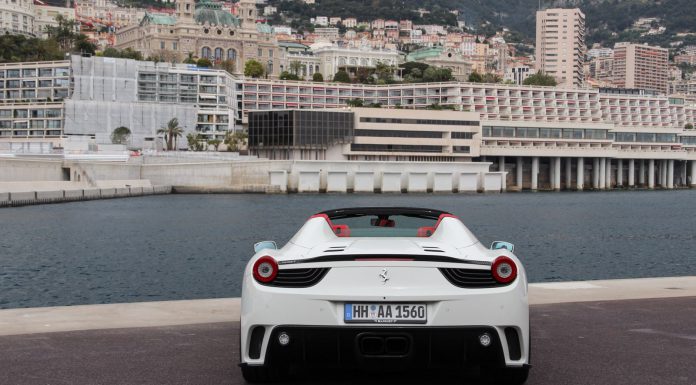 At the back, a diffuser was fitted as well as a new rear wing generating greater pressure levels at the rear axle. Compared to the standard Ferrari 458 Italia, the Mansory Siracusa saved 60 kilogram of weight thanks to its autoclave carbon components. An optimised engine management, a sports air filter and a sports exhaust system also improves the engine performance up to 590 hp and 560 Nm. The eight cylinder car accelerates in 3.2 seconds from 0 to 100 km/h. The top speed is 330 km/h.
We would like to give thanks to AAA Luxury & Sport Car Rental for this unique opportunity to meet one of the rarest modified current supercars on the planet. Visit the website of AAA Luxury & Sport Car Rental and become a fan on their facebook page to get the newest information about their stock and conditions.