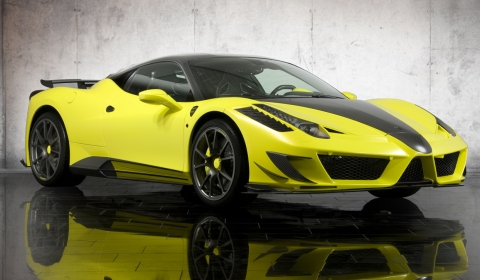 Mansory is continues its line-up of 'unique' projects with the Ferrari 458 Italia codenamed Siracusa. The German tuner added ultra-light and high-strength carbon fiber on the complete vehicle.
The main eye catcher of the new Siracusa front is the striking apron with its optimised air inlets. In combination with the new bonnet it also generates additional downforce. At the sides, newly designed side skirts are added. The diffuser which is fitted into the new back skirt stabilises the rear during high velocities and in connection with the rear wing, generates contact pressure at the rear axle. The body kit is completed with carbon blades which replace the rear window. Compared to the serial Ferrari 458 Italia, the refining specialist saves 70kg.
An optimised engine management, a sports air filter and a sports exhaust system improves the engine performance up to 590hp and 560Nm. The eight cylinder car accelerates in 3.2 seconds from 0 to 100km/h. The top speed is 330km/h.
Using four sports anti-shocks combined with progressively winded lowering springs the center of gravity is lowered by 20mmcompared to the serial model.
The tuner adds forged rims with central locking in the dimensions 9×20 and 11×21 with Michelin PS2 tyres measuring 245/35 ZR20 at the front axle and 305/30 ZR21 at the rear axle.
Also the interior is enhanced with delicate leather, ultra-suede, carbon parts, a newly developed full size airbag sports steering wheel and the aluminium pedals.