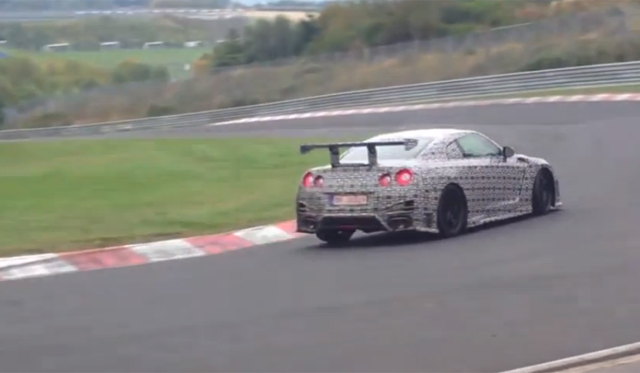 The 2014 Nissan GT-R Nismo has been spied testing at the infamous Nurburgring on multiple occasions in recent months. This all led to a crescendo recently when Nissan hired out the entire facility for a new record-attempt.
Well now reports have emerged suggesting that the official 'Green Hell' lap time for the Nissan GT-R Nismo could be revealed at the upcoming Tokyo Motor Show 2013. If that is the case, then it is likely that Nissan is quite proud of the laptime if it is planning to withhold the time until its hometown motor show.
2014 Nissan GT-R Track Edition

To make sure the 2014 Nissan GT-R Nismo was as fast as possible around the facility, Nissan's engineering, sales and marketing boss Andy Palmer confirmed that four different test drivers were used to extract the full potential out of the Japanese supercar.
One of those was former Formula One racer Sebastien Buemi. He was also likely the man to set the fastest time with Palmer stating, "Sebastien is a sensational driver. He was flat-out in places that other people brake in. His lack of experience at the 'Ring didn't hold him back."
As it stands, the fastest time around the Nurburgring set by a Nissan GT-R was set last year at 7 minutes and 18 seconds. However, with the 2014 Nissan GT-R Nismo promising to be the most potent and track-oriented GT-R ever, that laptime will inevitably tumble.
[youtube]http://www.youtube.com/watch?v=fpqlE0UpNGc[/youtube]
According to company insiders, Nissan is aiming to make the 2014 Nissan GT-R Nismo the world's fastest accelerating production car. Yep, that means faster to 100km/h than cars such as the Ariel Atom 500 and the Bugatti Veyron Super Sport. However, Nissan isn't just aiming to eclipse the current benchmark of 2.5 seconds, and instead wants to absolutely destroy it.
According to AutoExpress, the 2014 Nissan GT-R Nismo should hit 100km/h in just 2 seconds flat. Just how will such a time be achieved? Well, according to previous reports, the 2014 Nissan GT-R Nismo will develop in the region of 570hp, up from the 545hp of the 2013 Nissan GT-R. While those gains don't seem all that impressive, the 2014 Nissan GTR Nismo will also be significantly lighter and Nissan is expected to make some serious advancements to its launch control system.
[Via Autocar]