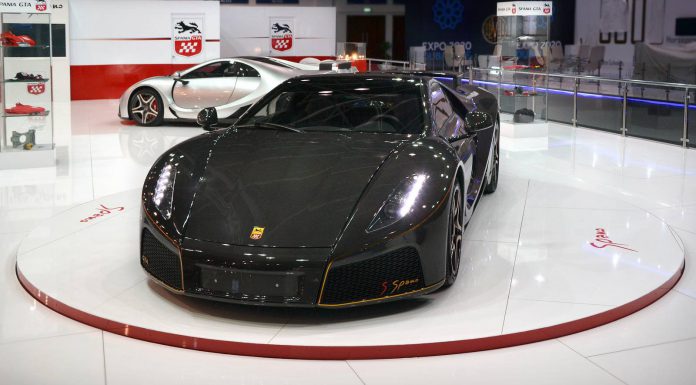 The GTA Spano is a spectacular piece of kit. The in house built engine now pumps out around 900hp, up from 820hp of the standard car, as well as an electronically-limited 1000Nm of torque, and increase of 40Nm's from the original GTA Spano and a spectacular figure that will be sure to smoke the tyres whenever given the opportunity! When all the power in under control and the torque is being put down on the tarmac the Spano will hit 100km/h in just 2.9 seconds and hit a top speed of over 350km/h. Its chassis has been created by combining carbon fibers, titanium and Kevlar.
The car is making its first middle-eastern appearance at this weeks Dubai International Motor Show and it sure looks stunning. As you can see there are two cars are on the stand.
The first is a very cool looking silver example that look rather similar to the stunning Porsche Carrera GT from the rear with its protruding rear wing. The second is much more to our liking, the car has a complete carbon fibre body with gold accents on both the bodywork and the wheels including the interior.