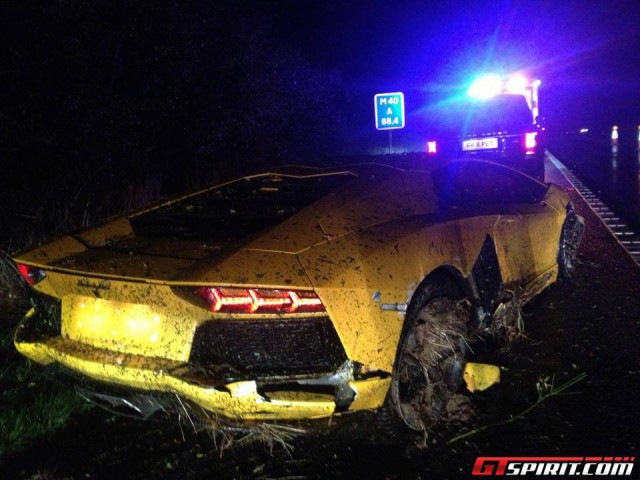 The Lamborghini Aventador is a quick car by any measure. It's all new 6.5 liter V12 engine that produces 700hp at 8,250rpm and 690Nm at 5,500rpm. This is enough power to launch the car in thrust mode to 100km/h in just 2.9 seconds and 0-200km/h is done in an astonishing 8.9 seconds flat. This is part due to Lamborghini's very potent all-wheel-drive system, a system that means extremely high speeds and remarkable acceleration is available at the push of the loud pedal. This however, does not mean the system is bullet-proof or infallible, as you can see by no means does it make you invincible as a driver.
You may recognize this LP700-4, it was recently seen in London's Knightsbridge with another Aventador where the yellow and orange cars opened their doors on the corner of Sloane Street and revved their engines resulting in huge crowds and some stunning flames. On Sunday evening the UK braced itself for strong winds and torrential rains, the worst storm in over two-decades. The Aventador is owned by a London based family that rent the cars high-end out under the trading name of Platinum Exclusive Travel and can usually be seen with registration plates ending in PET. The Lamborghini was out with a client who unfortunately lost control on the M40 motorway resulting in the wreckage that you see above.
[youtube]http://youtu.be/b2KD_OQ10z0[/youtube]
Fortunately no one was hurt, but better can be said for the car. The owners have already ordered a replacement car to join their fleet along with an Aventador Roadster.