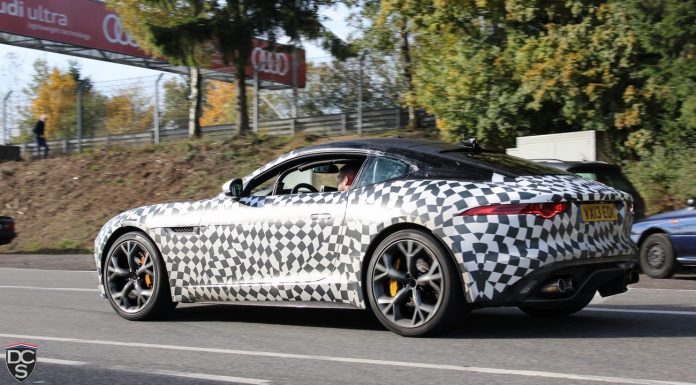 The Jaguar F-Type is the long awaited successor to the legendary E-Type that revolutionized the sports car scene. The Coupe and Convertibles were the desired by people young and old in the 1960's and when the 2013 F-Type Convertible was released in V6, V6 S & V8 S form it had the same effect and has gone into battle with the Porsche 911, coming out as more passionate and raw than the somewhat sanitized German.
The convertible has been very popular, but real enthusiasts will be waiting for the F-Type V8 S coupe and it has now been spotted on the road. The raked rear window blends into the rear wheel arches making the rear view simply stunning from the vague lines that can be made out from under the checkered camouflage. The car is obviously a V8 S as it features the four rear exhaust exits. There is also a new intricate wheel design that look superb. Inevitably the Coupe will be stiffer than the convertible and should also be lighter, in theory meaning it will be a quicker car. The convertible certainly is no slouch though.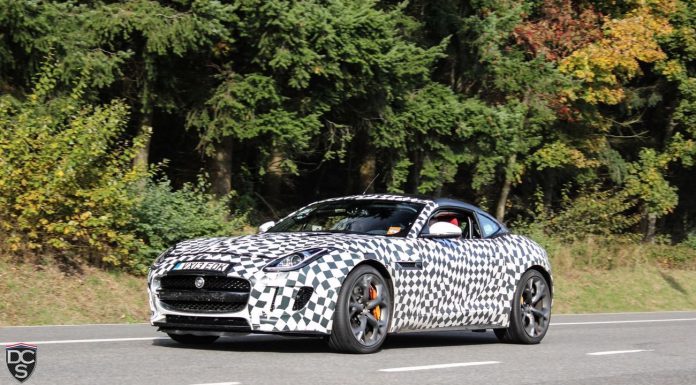 It gets the same familiar 5.0 litre Jaguar unit as we have seen in cars like the Jaguar XKR, XFR and XJ Super Sport. It is slightly detuned for the F-Type, producing 495hp rather than the 510hp we have become accustomed to. Yet the F-Type is a lighter, smaller package and can in fact feel every bit as fast on the road. The F-Type V8 S reaches a limited top speed of 186mph with 100km/h in 4.3 seconds and 60mph in just 4.2 seconds.
We are expecting a lot from the Coupe but fear that the dominating feature of the V8 S may be somewhat dimmed in the new car. The convertible allowed people in the car to appreciate, and in turn adore, the crackling and popping and howling that the stunning V8 produced and with a fixed roof some of the engines character may be lost. When we drove the convertible we loved it and are sure that the Coupe will not disappoint!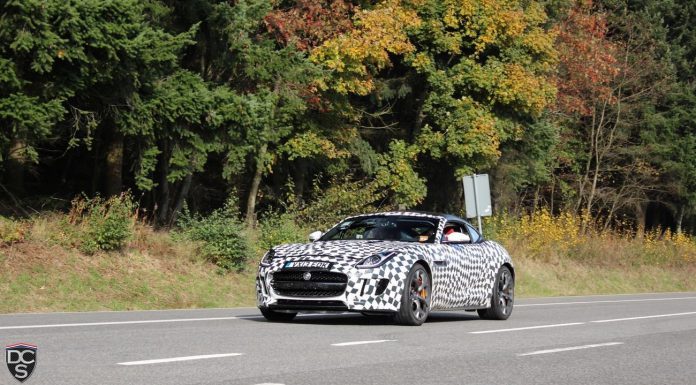 These images were caught by Dutchcarshots.