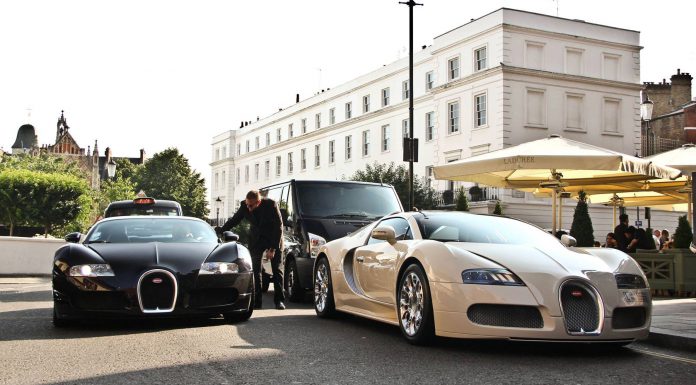 The Bugatti Veyron possibly the defining car of the decade. It pushed boundaries and explored technological advancements like no other car manufacturer has ever done before and produced a car the shatters the limits of what everyone believed was possible.
With 1,001 horsepower and 925 lb-ft of torque from its hand-built, 7,993-cc, W16-cylinder, quad-turbo motor, and four-wheel-drive, the Bugatti Veyron 16.4 is a beast. The Veyron takes 7.3 sec to reach 200km/h, 16.7 sec to reach 300km/h, and tops out at 407km/h. It's not just only top end speed that is impressive, 0-100km/h is done is an unbelievable 2.5 seconds.
Revealed at the infamous Pebble Beach Concours in 2008, the 1001bhp Grand Sport's (seen here on the right in white) top speed was announced to be 369km/h with the roof off and the same 450km/h (with the roof) as the Veyron. Costing €1.4million and Bugatti only building 150 units meant that the Grand Sport became one of the most exclusive and sought after cars for the super rich and famous to be seen in.
This stunning image was captured by Mitch Wilschut in London.