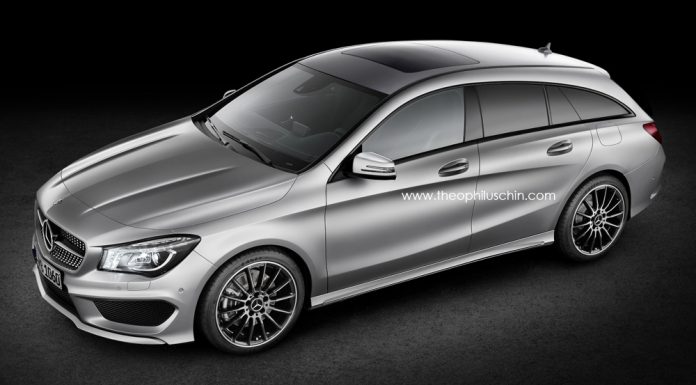 Sources inside Mercedes-Benz have confirmed that a station wagon of the CLA-Class, dubbed the Mercedes-Benz CLA Shooting Brake, will hit the market sometime in 2015.
Designed to be a slightly smaller variant of the current Mercedes-Benz CLS Shooting Brake, the 2015 Mercedes-Benz CLA Shooting Brake will make the CLA that much more practical with more head room and more cargo space. All of this extra space will be complemented by a similar swooping shape to the CLS Shooting Brake as portrayed by Theophilus Chin's rendering above.
2014 Mercedes-Benz CLA 45 AMG

When the Mercedes-Benz CLA Shooting Brake does hit the market, it'll be offered in an array of specifications and will likely receive the full AMG treatment just like the CLS 63 AMG Shooting Brake. If this happens, then expect similar performance figures to the standard sedan CLA 45 AMG.
The Mercedes-Benz CLA 45 AMG is, mechanically, almost identical to the Mercedes-Benz A 45 AMG which received its official launch around the same time. Both cars feature the new 2.0 litre turbocharged four-cylinder and both produce a substantial 360hp peak power figure. The differences, aside from the bodywork, are subtle but they are definitely present.
The four-wheel drive system – one of the first system's fitted to an AMG road car – is an amazing piece of engineering. Most of the time when you aren't pushing to the limits, it operates sending most of the power to the front wheels. At lower speeds the driver is less inclined to notice the handling characteristics so this doesn't appear to be much of an issue. Push a little further though and the power starts to move to the middle of the car. It does this in an instant, perfect for pulling into that small slot on a busy roundabout.