Supercar Season in London is not normally with the weather London seems to be experiencing at the moment. We braved temperatures hovering just above freezing, chilling winds and relentless rain to find out that even in October, Central London and its surrunding boroughs, Knightsbridge and Mayfair, are still awash with supercars.
It seems as though the locals are getting in on the act too as there are plenty of British number plates to match those foreign ones. It seems that owners have not yet hibernated their cars for the coming winter. Could Supercar Season become the normal state of things in the British capital?
It is a quite afternoon, traffic is light and it was a surprise to stumble across a very alluring matte black and orange highlighted 2013 Lamborghini Gallardo 570-4 Edizione Technica. Very pretty indeed. This is quickly followed by a menacing looking beast; a Mercedes SLS AMG from Bulgaria that featured some very unique and halloween-esque blood red highlight including the slats on the wings, bonnet, badges and even the exhaust surrounds!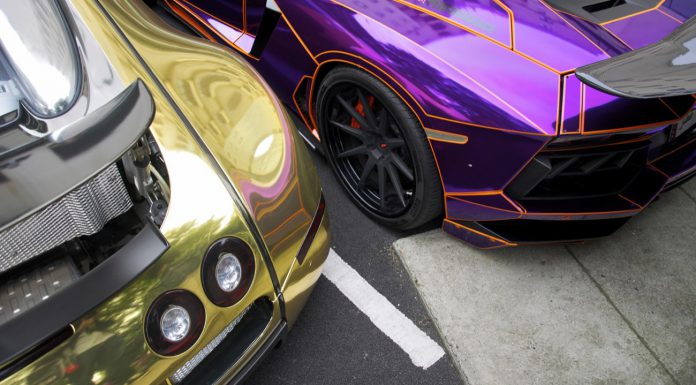 This was followed by a trot across to the Grosvenor Hotel, a hot spot for arab cars. As ever, it did not disappoint! It was a German affair, a white SLS sat next to a huge CL and finally a spectacular looking BMW F10 M5 finished in a handsome matte blue. It was subtle yet beautiful and well equipped with an Akrapovic Exhaust system.
Word was spreading that a a couple of very special cars could be found outside the famous Dorchester hotel and the rumours were indeed correct. Outside the prestigious hotel sat a Bugatti Veyron Grand Sport and the infamous Tron Aventador. The Lamborghini, as I am sure you know, is finished in purple chrome and has been fitted with a vast array of LB Performance parts. The Veyron in this gallery had never been seen in the UK before and my gosh it was spectacular!
Finally a Red-Chrome Rolls-Royce Phantom shone bright outside Harrods adding to the chrome fiesta in London! We hope that Supercar Season does not end, at the moment though, it just seems to be getting better and better!