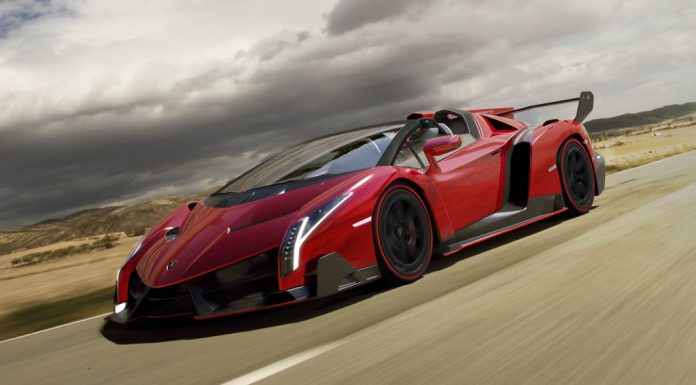 It seems as though the Lamborghini Veneno Roadster might have leaked already. It isn't clear where the images have come from and some have suggested they look as though they are renderings, however, if you take anything away from the photos, it should be that a Veneno Roadster is now almost certain to break cover soon!
Lamborghini's CEO Stephan Winkelmann has already gone as far as confirming that a Veneno Roadster would be made available at some point in the future. The car in the photos appears to feature a similar colour to the one-ff Aventador J. Similar to the Aventador J, the Veneno Roadster is a permanent roadster with no carbon fibre panel top to protect the driver from the elements.
With a maximum output of 750 hp, the Veneno accelerates from 0 to 100 km/h in just 2.9 seconds, 0.1 seconds slower than its coupé counterpart. Top speed is similarly reduced at 354 km/h instead of the coupé's 355 km/h. Weight is said to be 1,490 kilograms (3,285 pounds) which makes it almost 200 kg's lighter than the standard Aventador.
It will undoubtedly share its running gear with the coupé so expect a fast-shifting 7-speed ISR transmission with 5 driving modes and permanent all-wheel drive, as well as a racing chassis with pushrod suspension and horizontal spring/damper units. The complete chassis is produced as a CFRP monocoque, as is the outer skin of this extreme sports car. The inside, too, features innovative, Lamborghini-patented materials such as Forged Composite and CarbonSkin.
The cost for each individual unit is $3.3 million. It will be less exclusive than the Veneno coupé with nine units planned rather than the three announced for the coupé. The 'Rosso Veneno' colour is unique for the roadster but owners will be able to spec any colour they desire. We're not sure when it will get an official unveil but we hope that will be soon!
[Details via TopGear, Photos via AutoEmotionen]