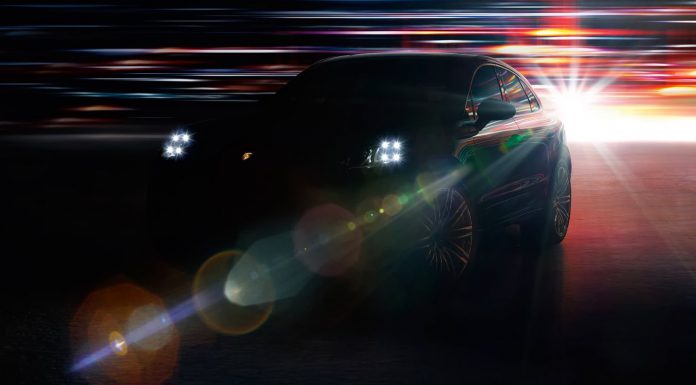 So after waiting seemingly forever, Porsche has finally released the first official teasers of the upcoming Porsche Macan SUV ahead of its world debut at the upcoming Los Angeles Auto Show 2013.
While styling traits of the Porsche Macan aren't focused on in the following teaser video, the first image showcases a small SUV with headlights featuring quad LEDs just like the Porsche 918 Spyder.
While the smaller visual traits of the Porsche Macan are a closely guarded secret at the moment, numerous details about the Porsche Macan were recently released.
[youtube]http://www.youtube.com/watch?v=dyaVfIJ8zMo[/youtube]
At launch, the Porsche Macan Turbo will feature a top of the range 3.6 litre V6 turbocharged engine with 400hp whereas its diesel alternative, the Porsche Macan S will get a supercharged 335bhp and 339lb 3.0 litre V6 whilst the Diesel S will feature a 254hp and 428lb-ft turbocharged engine. A choice of either a standard six-speed manual or optional seven-speed dual-clutch automatic gearbox will be made available, steering is electro-mechanical. It seems that those wanting a four-cylinder engine will have to wait a little longer!
From a design perspective, the front bonnet looks interesting with a clamshell designed to supply much needed air to the front-mounted engine. The Porsche Macan is 70mm longer, 44mm wider and 29mm lower than the Audi Q5. Porsche will be hoping that they have a more attractive prospect than the 5-year old Audi Q5, it certainly looks promising!