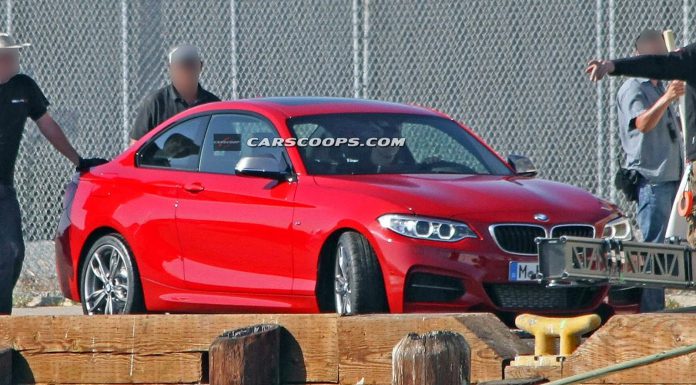 Following leaked images of the BMW M235i participating in an official photoshoot earlier this year, the firm's South African website accidently published details about the upcoming BMW M235i Coupe. While they were swiftly deleted, BimmerPost captured the following screenshot.
BMW has yet to confirm that a BMW M2 will ever reach the market, but until it does, the BMW M235i will be the range-topping 2-Series. Just how potent will these sub-3-series range-topper be? Well, according to South Africa specification, it'll be very capable.
It will be powered by the same 3.0-liter twin-turbocharged inline-six cylinder engine as the BMW M135i. However, instead of the 315hp produced by the M135i, the BMW M235i will develop 322hp at 5800rpm and 450Nm of torque between 1300 and 4500rpm.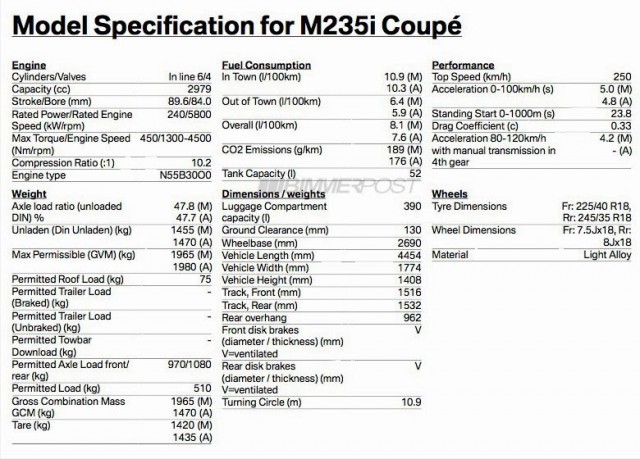 This will make for a 0-100km/h sprint of just 4.8 seconds with the semi-automatic transmission, and 5 seconds flat for the manually-equipped BMW M235i. Tipping the scale at 1420-1435kg depending on the gearbox of choice, the BMW M235i is relatively light and will continue onto an electronically limited top speed of 250km/h.
In terms of fuel efficiency, the BMW M235i will use 10.3-10.9 liters per 100km travelling in the city and 5.9-6.4 liters per 100km out of town. The manual is the least fuel efficient of the two gearbox options.
[Via Carscoops and BimmerPost]