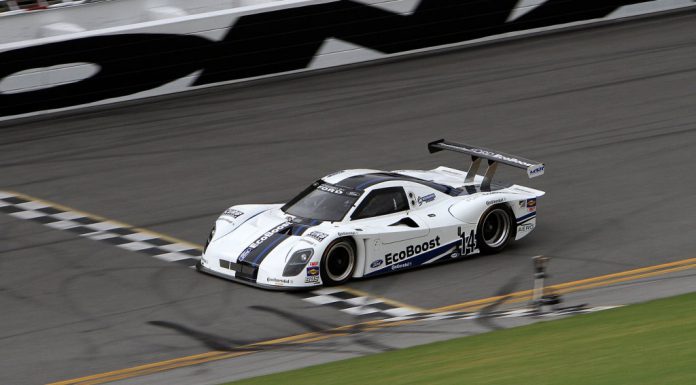 Following the recent release of the Ford Racing EcoBoost Prototype and Ford's announcement to attempt to break a sought-after world record, the American automaker has done just that.
Setting out to trump the highest average speed lap around the Daytona International Speedway of 210.364 mph set by Bill Elliot in 1987 in his NASCAR, Ford smashed the record. In fact, the Ford Racing EcoBoost Prototype managed to lap the circuit at an average speed of 222.971mph thus completing the lap in just 40.364 seconds!
Set to compete in the upcoming 2014 TUDOR United SportsCar Campionship Series, the car features Ford's extremely impressive EcoBoost engine technology.
In fact, the new Ford Racing EcoBoost Prototype is powered by a 3.5-liter EcoBoost V6 engine. Unfortunately, Ford has remained tight-lipped about the specifications of this unit but did reveal that the engine has undergone endurance testing on the dyno in Michigan. While Ford could have inevitably built the engine completely by itself, the automaker enlisted the help of Roush Yates Racing Engines to help make the powertrain endurance ready.
When speaking about the new Ford Racing EcoBoost Prototype, Ford Racing director Jamie Allison said, "We're proud to bring a direct-injected, twin-turbo 3.5-liter V6 EcoBoost engine to the United SportsCar Championship in a field of competitive V8-powered entries. We want to show Ford EcoBoost's capabilities as an engine that provides both performance and fuel economy, on and off the track."