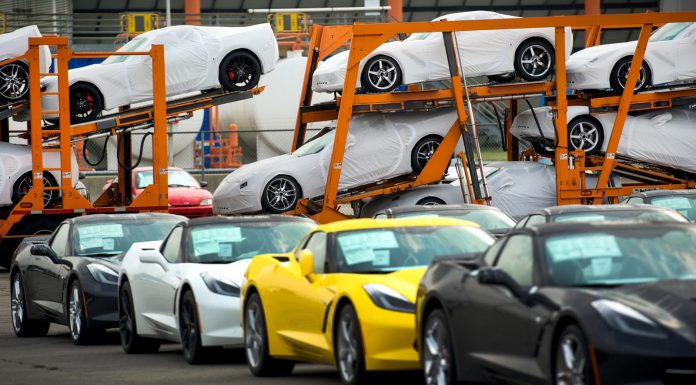 With reviewers recently confirming the PR-hype surrounding the 2014 Chevrolet Corvette Stingray as being a revolutionary step over previous-generation Corvettes, it was inevitable that demand would be high.
As a result, Chevrolet has confirmed that there's now a six-month waiting list for the 2014 Chevrolet Corvette Stingray with the very first dealership deliveries recently kicking off. With this waiting list comes some customers looking to pay high premiums to secure some of the very first units with some willing to spend up to $20,000 extra to jump to the top of the waiting list.
The 2014 Chevrolet Corvette Stingray is being produced at the Bowling Green Assembly facility. When dealer deliveries first began mid-September, Plant Manager of General Motors' Bowling Green Assembly plant Dave Tatman said, "It's an amazing sight to see the transporters filled with Stingrays heading to customers in all corners of the country. The pride at Bowling Green is overwhelming and it shows in the tremendous quality and attention to detail going into each one of these new Corvettes."
Unfortunately for some, the Corvette C7 won't exactly be heading to dealers everywhere in the U.S. Back in late January it was revealed that General Motors was forcing businesses to meet a sales-volume threshold to stock the car and those dealerships which failed to sell at least four Corvette's in 2012, are being left out from the new C7-generation Corvette.