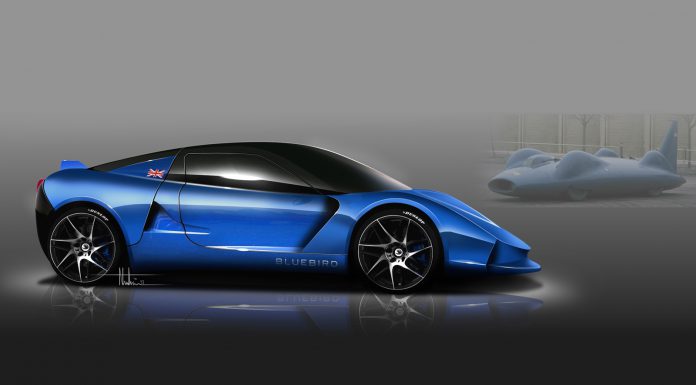 Following the recent debut delay of the Bluebird DC50, it's been revealed that the electric sports car will be ready for deliveries to commence in July next year.
Confirming a car for production before its debut is always a risk however, Bluebird Speed Records project director Martin Rees has confirmed that half the allocation of 50 cars have already been accounted for. Of those cars, Rees expects 20 per cent to go for the high-performance variant.
"In terms of the customers we envision that 60 per cent will be collectors, 20 per cent will be users and 20 per cent will be for the high performance derivative".
That high performance version will utilise technology from the Bluebird Formula E GTL electric race car and should consequently deliver an impressive 360hp. As for the lower-powered version, no performance details have been released, but it's hoped the car will have a range of up to 200 miles.
While the demand to produce more cars may come in the future, Rees insisted Bluebird Speed Records doesn't want to enter mainstream automaking; "This is not Bluebird trying to enter mainstream automotive manufacturing.
"Our operation is a very intimate, very direct opportunity to celebrate a great man. For that reason we don't need PR or marketing, our story writes itself. Just by releasing it we know it will sell.
"This is being done for a special reason and to celebrate a significant part of the Bluebird story. If that proves that the brand can be expanded into this market then that's something we will look at. We would have to look seriously at taking this forward into the future, with this technology and with the design qualities that we hope we could bring. Fundamentally Bluebird is about pushing technology boundaries."