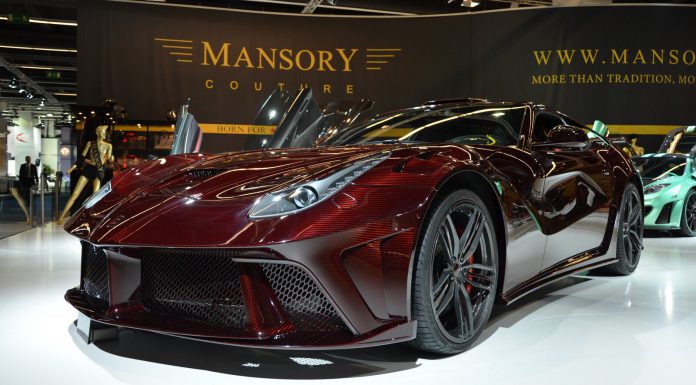 Mansory's assault on the supercar market continues with another bespoke Ferrari F12 Berlinetta based project on display at IAA Frankfurt Motor Show 2013. One of two world premieres on display at their stand, the Mansory F12 La Revoluzione is an impressive machine. Not content with simply adding pieces to the existing bodywork, the engineers stripped down the bodywork and rebuilt from scratch. The car is a complete assault on the senses, 1,200hp, a value of 1,300,000 euros and a stunning carbon fibre exterior.
The Mansory F12 La Revoluzione is naturally the most exclusive Ferrari F12 Berlinetta on the market. The body panels are constructed from carbon fibre, baked in Mansory's own autoclaves. Mansory describes the front bumper as being an 'inverse formula one nose' with a variety of different vents to increase air flow into the front mounted engine. The F12 La Revoluzione also gets a redesigned rear with a set of quad tail pipes mounted on either side.
The headline figures amount to something quite staggering. The engineering department at Mansory have developed a range of upgrades including new software for the central electronic control unit, a set of larger turbochargers, and a brand new exhaust system designed for minimal back pressure. Together, the upgrade package pushes the 6.3 litre V12 up to a staggering 1,200 hp with a maximum torque of 890 Nm. 0-100km/h takes just 2.9 seconds and the La Revoluzione rockets to a maximum speed of 370 km/h.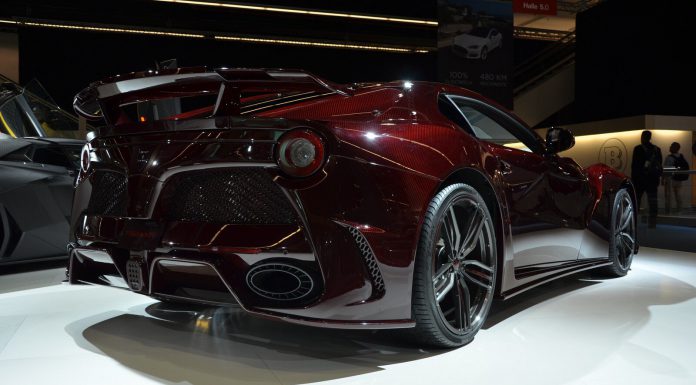 The Mansory F12 La Revoluzione features a new wheel design with five triple spokes shod with Pirelli high performance tyres. They measure 21 inches at the front and 22 inches at the rear. The wheels hide a set of perforated brake discs measuring 398 mm in diameter on the front and 360 mm at the rear axle.

The colour of the exterior matches the name, Revolution Red. The interior blends this theme with carbon fibre, cowhide leather and Alcantara. Of course, customers who choose to go for the full package will pay the price. For this staggering build, Mansory will charge 1,300,000 euros net of tax. For those that want the absolute pinnacle of tuning. It will seem to be a reasonable price!