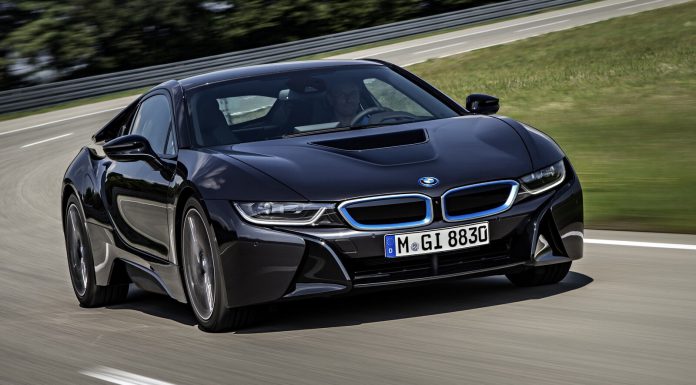 BMW's biggest premiere at the IAA Frankfurt Motor Show 2013 is the BMW i8. First displayed at the Frankfurt Motor Show 2010 as an efficient diesel concept, the BMW i8 in production form gets a plug in hybrid engine. It has plenty of performance to back up its outlandish looks!
The BMW i8 is the second model from BMW's new BMW i brand. It is intended as a sports car and provides a forward-looking, revolutionary interpretation of BMW's hallmark driving experience. It is a 2+2-seater with a design that BMW refer to as LifeDrive architecture. It gets a "life module" passenger cell made from carbon-fibre-reinforced plastic (CFRP), as you would expect from any premium sports car. Total weight is just 1,490 kg, bearing in mind the plug-in hybrid architecture.
The drive system utilises a brand new three-cylinder petrol engine with BMW TwinPower Turbo technology. From 1.5 litres, the i8 manages an output of 231 hp, a maximum torque of 320 Nm and rear wheel drive. Power is sent to the rear wheels via a six-speed automatic gearbox. The petrol engine is supplemented by an electric motor with an output of 131 hp and maximum torque of 250 Nm. The power from this lithium-ion high-voltage battery is channelled through the front wheels via a two-stage automatic transmission.
The combinations mean that the BMW i8 is able to produce 362 hp maximum power and 570 Nm of torque. Performance is 0 to 100 km/h in 4.4 seconds with both engine and electric motor engaged. The BMW i8 manages economy figures of 2.5 litres per 100 km or 113 mpg in imperial measurements.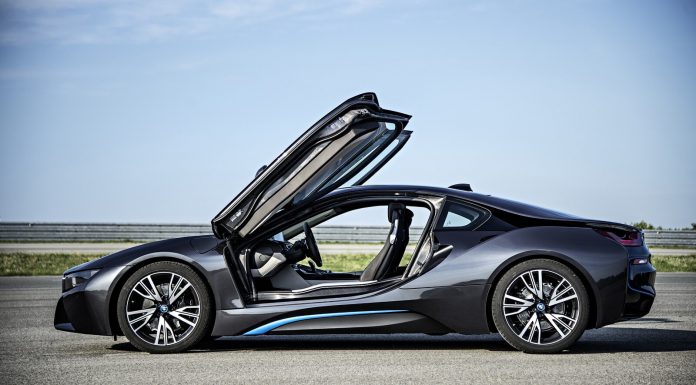 The Driving Experience Control switch and eDrive button allows drivers to choose from five driving modes. Comfort mode for example offers a balance between dynamics and efficience, Eco Pro offers both all electric and hybrid drive modes whereas Sport uses the electric motor as a boost function. In total, the BMW i8 has a range of up to 35 kilometres (22 miles) on electric power alone and a top speed of 120 km/h (75 mph).
The chassis makes use of a double-wishbone front axle and a five-link rear axle. BMW also fit Electric Power Steering, Dynamic Damper Control and 20-inch light-weight alloy wheels as standard. There is an extra option for carbon wheels. BMW also offer as standard, a navigation system and BMW iDrive
The design is similarly stunning. With classical sports car proportions and the fresh interpretation of BMW design features, the BMW i8 looks every inch as good as the concept. The doors do still open upwards and the design retains the layering principle and gets full-LED headlights as standard. Laser headlights, a world first, are available as an option. The BMW i8 gets four exterior paint finishes and four interior equipment variants.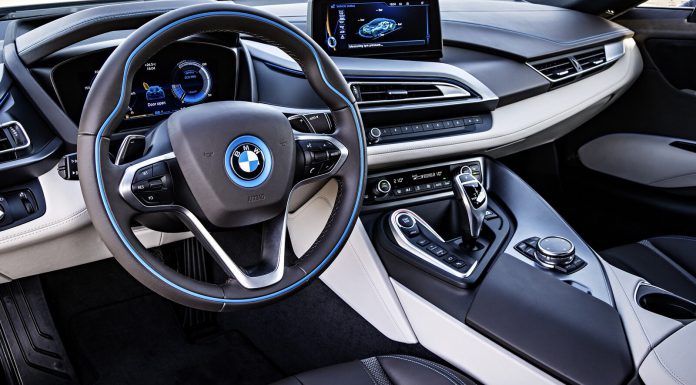 BMW also offer services in the form of the BMW i Wallbox for convenient battery charging at home, a ChargeNow card which gives customers a cash-free payment option at public charging stations and innovative mobility services such as MyCityWay and ParkatmyHouse.