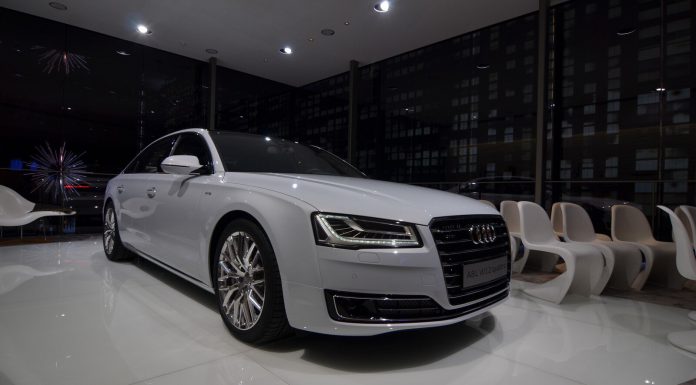 Audi have revealed the 2014 Audi A8 to the public for the very first time at IAA Frakfurt 2013! The luxury limo has undergone a small amount of cosmetic surgery to help it remain desirable next to competitors such as the new Mercedes-Benz S-Class. The 2014 Audi A8 also features a new engine range, for the first time, all models (aside from the hybrid) feature Quattro all-wheel drive!
The dimensions of the standard wheelbase A8 remains unchanged while the A8 L gains an additional 13 centimeters in both length and wheelbase. The design changes a little. The engine hood, the single-frame grille and the front bumper are even more sculptured; the lower edge of the headlight units is straight. In the German market, LED headlights are standard in all models with a V8 engine. Audi also offers optional headlights featuring Matrix LED technology, the high-beam comprises 25 individual light-emitting diodes per unit that can be switched on and off or dimmed individually depending on the situation.
The range of engines now offered in the Audi A8 includes two gasoline and two diesel engines. These are the supercharged 3.0 TFSI with 310 hp, the V8 twin-turbo 4.0 TFSI with 435 hp, the 3.0 TDI clean diesel with 258 hp and the 4.2 TDI clean diesel with 385 hp and 850 Nm. Performance throughout the range is enhanced with the top of the range 4.0 TFSI now accelerating from 0 to 100 km/h in 4.5 seconds.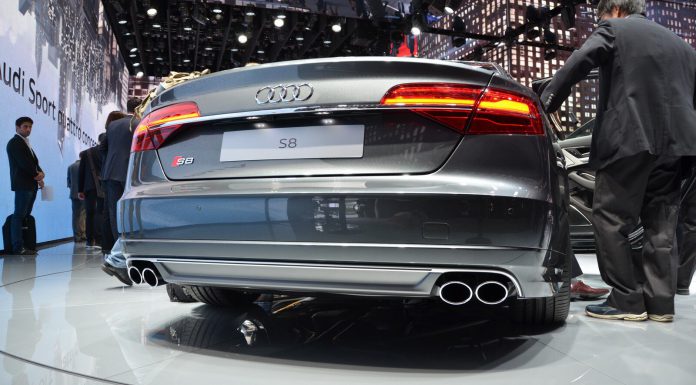 Audi also offer a further three models. These are the luxuriously equipped Audi A8 L W12 quattro with its 6.3 liter 500 hp engine, the S8 with its 4.0 TFSI and the Audi A8 hybrid. The later combines a 2.0 TFSI and electric motor to produce a total system output of 245 hp with torque of 480 Nm. It gets a front wheel drive setup with power transferred via a modified tiptronic. The lithium-ion battery in the rear enables purely electric driving at speeds of up to 100 km/h with a range of roughly three kilometers.
If you want to find out more about the 2014 Audi A8, feel free to click through to our earlier article!