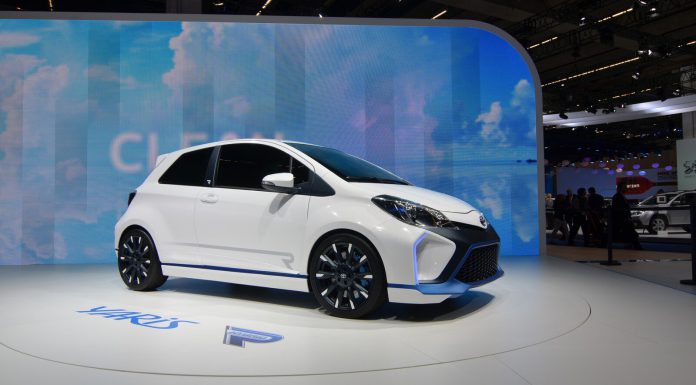 At the IAA 2013 we had the first chance to take a look at the incredible Toyota Yaris Hybrid R. Don't let the name or its exterior put you off; this little car is technically a race car with a Yaris body. Under the skin is a hybrid engine featuring a 1.6 liter petrol engine which produces 300hp and 2 electric motors of 120hp in total. That makes an incredible 420hp!
The Toyota Yaris Hybrid R concept is developed by the Toyota Motorsports department and features many parts and components that are taken straight from the Toyota Le Mans racers among other racing cars. From the outside its the redesigned grill that catches the eye, but it is the technology that truly makes this Yaris special and GT Spirit-worthy.
The Toyota Yaris Hybrid R also makes use of a supercapacitor which stores energy recovered during braking. That's in fact, a very similar system to the one found in the Toyota TS030 LMP1 car. This system is located under the rear seat of the Yaris Hybrid R and if that wasn't enough to cram into the small car, there's actually a third 60hp electric engine which functions as a generator for the supercapacitor under braking. And then under acceleration, it powers the other electric motors.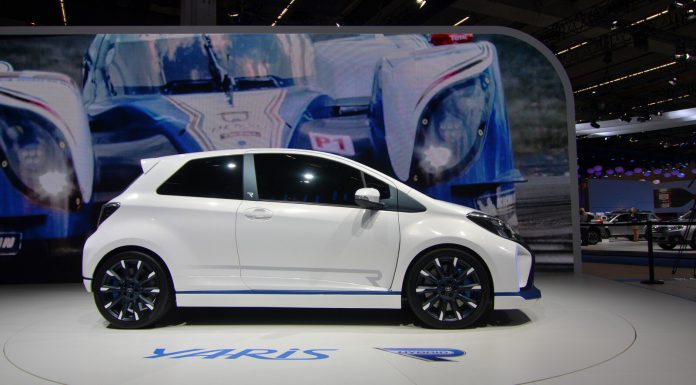 From a visual standpoint, the Toyota Yaris Hybrid R includes a dramatically redesigned front fascia incorporating new headlights, a massive new front grille, as well as some eye-catching bright blue accents. The Hybrid Yaris R is then rolling on a set of 225/40 R18 Michelin Pilot Sport Cup tires at all four corners.
It's unknown if the Toyota Yaris Hybrid R will hit the production line, but one can only hope!