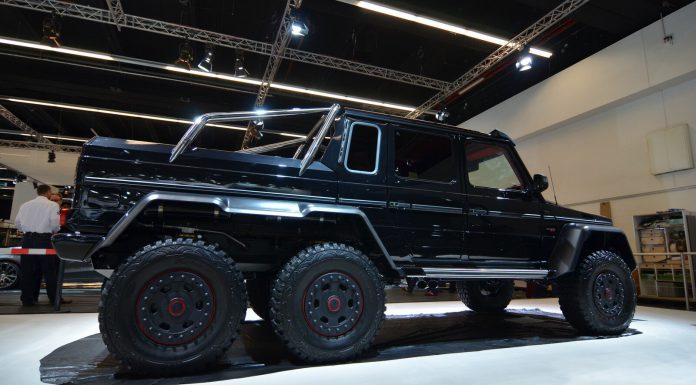 Without a doubt, one of the highlights at the IAA Frankfurt Motor Show 2013 is the enormous Brabus B63S 700 6×6. Brabus have taken the very first Mercedes G63 AMG 6×6 and given it an overdose of steroids. It towers above everything else on the Brabus stand, an whilst it might not have the highest power ratings of the cars on the stand, it certainly has the biggest presence!
The Brabus B63S 700 is powered by a 5.5-liter V8 Biturbo with Brabus' 700 engine tuning. It produced 544 hp before Brabus performed the modifications, now it has 700 hp and 960 Nm of torque, routed to all six-wheels. The four ton goliath sprints from rest to 100 km/h in just 7.4 seconds. The top speed is limited electronically to 160 km/h (100 mph) due to the 37-inch off-road tires!
The Brabus front spoiler edges attach to the production fascia and combine with a special radiator grille with integrated Brabus logo. The Brabus carbon-fiber hood scoop and mirror-polished Brabus under ride guard also add a unique look to the package.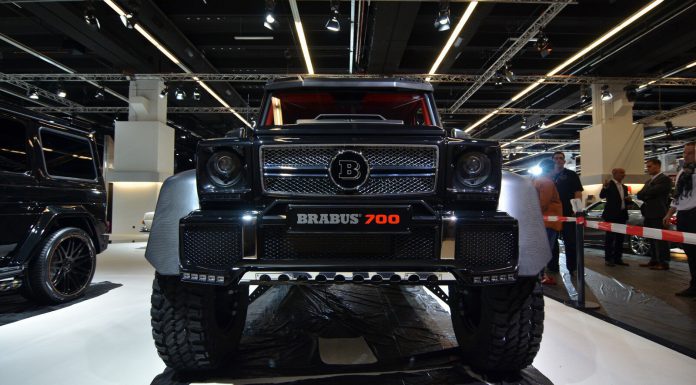 If you simply need to know more about this wonderful creation then take a look at our earlier Brabus B63S 700 6×6 article!