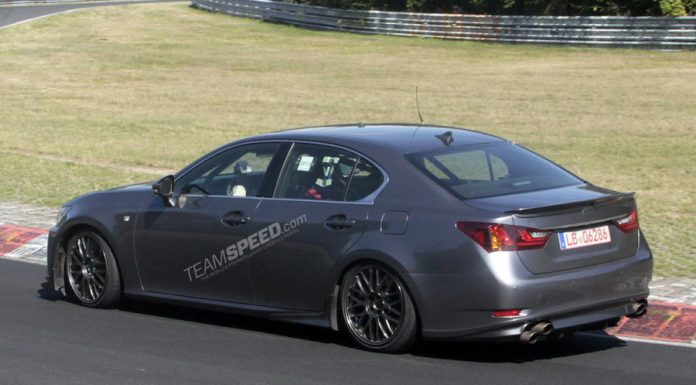 In addition to Lexus working on a challenger to the 2014 BMW M4 in the form of the Lexus RC-F Coupe, the Japanese-based performance arm of Toyota is also developing a rival to the mighty BMW M5.
The following Lexus GS-F prototype was recently spotted testing at the Nurburgring completely undisguised and sporting some trademark 'F' design features. These consist of a far more aggressive bodykit and most notably, the traditional stacked quad exhaust pipes. As a result, there's no debating the fact that this is indeed a hotted-up variant of the Lexus GS.
Just how hot though? Well, initial reports claim that the Lexus GS-F, likely to come in as a 2015 model, will sport a 5.0-liter V8 engine producing around 465hp. For those high-performance luxury sedan aficionados out there, you'll know instantly that that's significantly less than the BMW M5. In fact, the BMW M5 produces 552hp!
Additionally, such a figure puts the Lexus GS-F well below the Mercedes-Benz E63 AMG, Audi RS6 and Jaguar XJR. So is it fair to compare it against these almighty German and British uber-sedans? Possibly not because the Lexus GS-F is a much bigger car than the BMW M5 and for all we know, Lexus may not even be targeting the realm of M5s and AMGs.
Stay tuned to GTspirit for more!
[Via Teamspeed]