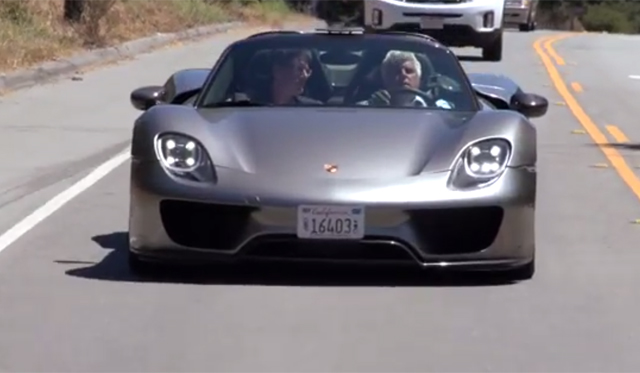 In one of the most exciting videos from Jay Leno's Garage in recent memory, he was given the exclusive chance to drive and discuss the 2014 Porsche 918 Spyder with the Weissach package while attending Monterey Car Week 2013!
The video begins with an in-depth look of the car where Leno is joined by Frank Walliser, who is the Head of Project 918 Spyder. In the closing four-minutes of the video, Jay Leno gets the chance to take the car for a spin on public roads and the results are quite incredible!
[youtube]http://www.youtube.com/watch?v=qlBUB9RqY_I[/youtube]
When first released as a concept car back in 2010, the Porsche 918 Spyder was believed to produce 795hp, but recent reports suggested that on the back of the 900hp+ LaFerrari and McLaren P1 being revealed, the Porsche 918 Spyder would feature an insane 875hp when it hits the production line.
However, earlier this year, it's was revealed that the Porsche 918 Spyder in fact produces 887hp and over 920lb-ft of torque! That horsepower figure puts it slightly behind the McLaren P1 and LaFerrari, but the torque output is significantly more than the 664lb-ft of torque of the McLaren P1 and LaFerrari.
Consequently, the Porsche 918 Spyder should hit 100km/h in less than 3 seconds and a top speed of around 210mph.