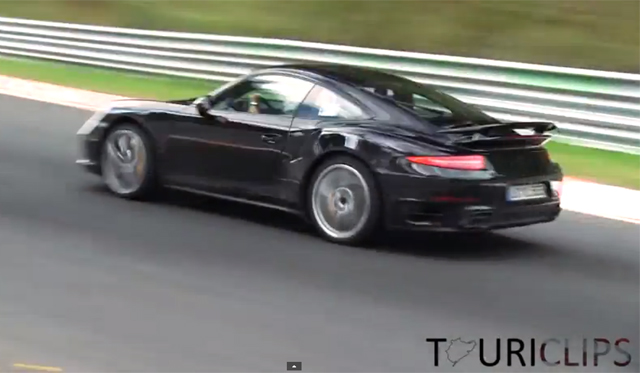 While Porsche revealed the 2014 Porsche 911 Turbo some months ago, a pre-production prototype was recently spotted undergoing high-speed testing at the Nürburgring. The following car could in fact be the vehicle Porsche uses to set the car's official lap time around the infamous testing and motorsports facility.
The 2014 Porsche 991 Turbo comes with a turbocharged 3.8-litre six-cylinder with direct petrol injection producing 520hp in the 911 Turbo and 560hp in the Turbo S. It comes with two turbochargers and variable turbine geometry. Together with a new thermal management system for the turbo engine, fuel efficiency technologies have reduced average fuel consumption up to 16% to 9.7 liter per 100km.
[youtube]http://www.youtube.com/watch?v=9GuhBgx6iQU#t=38[/youtube]
Compared to previous models, the power level of the 911 Turbo was boosted by 20hp and its torque was increased 10Nm up to 660Nm. The increased power of the new 911 Turbo was achieved primarily through improving engine efficiency with higher combustion pressures, new valve timing and ignition angle tuning.
As a result, the 2014 Porsche 911 Turbo can hit 100km/h in just 3.4 seconds and 200km/h in 11.1 seconds. Thanks to Porsches advanced PDK dual-clutch transmission and the insane all-wheel drive system, it's inevitable that the new car will be substantially faster around the Nurburgring than its predecessor.
Just how fast? Well, the 991 Turbo will reportedly lap the circuit in less than 7 minutes and 30 seconds! Hopefully Porsche will release a video of its most impressive run just like Nissan has done multiple times with the GT-R!