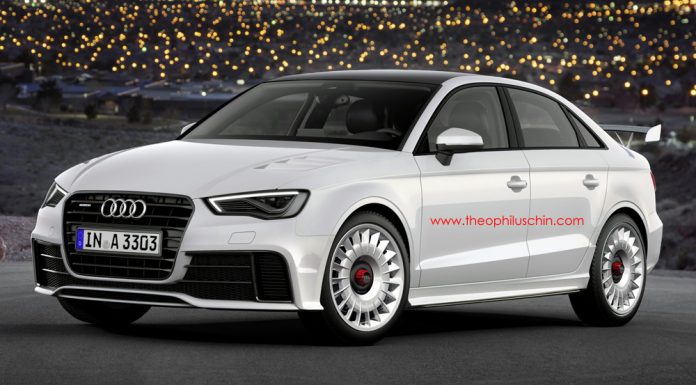 As it stands, Audi only produces an Audi RS3 variant of the Audi A3 hatchback, dubbed the Audi RS3 Sportback. However, what would a possible Audi RS3 sedan look like if the German automaker ever decided to produce such a car? Well, Theophilus Chin has a possible answer with his latest renderings!
Based on the standard Audi A3 sedan, the new Audi RS3 would inevitably feature a new bodykit incorporating more aggressive front and rear bumpers. However, Chin's renderings go that one step further and showcase the car on a set of wheels borrowed from the 500hp Audi A1 Clubsport Quattro Concept, as well as a prominent rear wing. While, Audi would almost certainly not use such features for any real Audi RS3 sedan, it nice to see what a possible competitor to the recently revealed 2014 Mercedes-Benz CLA 45 AMG Edition 1 would look like!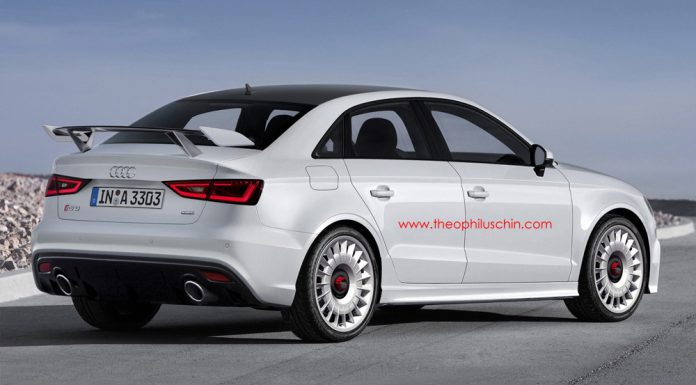 From a performance standpoint, the existing Audi RS3 Sportback features the 2.5-liter five-cylinder engine from the Audi TT RS. It delivers a total of 340hp and 331lb-ft of torque which is transmitted to the road via a seven-speed S tronic and quattro permanent all-wheel drive. The RS3 rockets from a dead stop to 100km/h in 4.6 seconds. Top speed is electronically limited to 250km/h. The compact car weighs in at only 1,575 kilograms (3,472 pounds).
[Via Theophilus Chin]