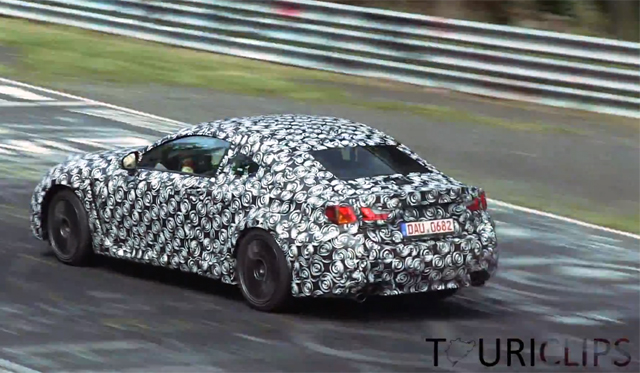 The upcoming 2014 Lexus RC-F Coupe has been recorded testing on the legendary Nurburgring for the very first time, sporting what appears to be a throaty V8 soundtrack as well as what sounds like a semi-automatic transmission.
It's long been unclear whether or not Lexus would create an F variant of the IS coupe, but this video and recent spyshots confirm that it is. What this means is that the 2014 BMW 4-Series Coupe and the Mercedes-Benz C63 AMG Coupe will have a new competitor to deal with. Separating this particular 2015 Lexus RC-F Coupe from the standard Lexus IS-range are the much larger front air intakes, a small hood scoop, wide rear wheel arches as well as a quad-exhaust pipe system.
However, because development of the 2015 Lexus RC-F Coupe is still in its early stages, no specific engine has been confirmed for it. However, the 2013 Lexus IS' chief engineer Junichiro Furuyama recently revealed to The Motor Report that the new IS-F would likely ditch the V8 engine of the original citing it's more difficult to be passed for emission standards.
The only other option Lexus has for the 2015 Lexus RC F Coupe is creating a forced-induction six-cylinder engine similar to the 2014 BMW M4 coupe and 2014 BMW M3, but Lexus insists that natural aspirated engines are its strong point as they provide a "more pure experience".
Let us know below what you think is powering this prototype below!