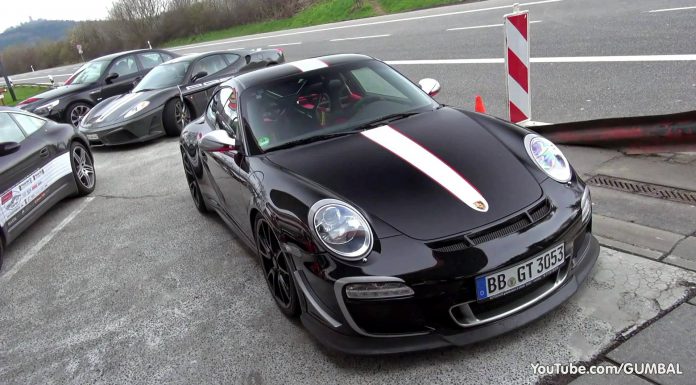 While the Porsche 997.2 911 GT3 RS 4.0 certainly isn't as fast around a track as say the Ferrari 458 Italia or McLaren 12C, it's stripped down body and hardcore attitude make it one of the most sought after driver's cars currently on the market.
Well one Porsche 911 GT3 RS 4.0 owner recently took his stunning performance machine to the legendary Nurburgring and Gumbal on YouTube was there to film the following high-octane video showcasing the stunning exhaust note perfectly!
Limited to 600 vehicles, the 911 GT3 RS 4.0 brings together all the attributes that have made the Porsche 911 GT3 a serial winner on the race track and makes it available in a limited edition road car.
The flat engine's crankshaft has been lifted unchanged from the 911 GT3 RSR racing car's six cylinder engine and the forged pistons' connecting rods are fashioned from titanium. The four-liter displacement sports engine, the biggest 911 model line engine ever, is also the most powerful naturally aspirated engine with 125hp/liter. It achieves its maximum power of 500hp at 8,250 revs per minute. The engine delivers its maximum torque of 460 Newton metres at 5,750rpm.
The 911 GT3 4.0, available exclusively with a six-speed sports transmission, sprints to 100km/h from a standing start in 3.9 seconds and with its gearing designed for the race track, it can then hit the 200km/h in just twelve mere seconds!