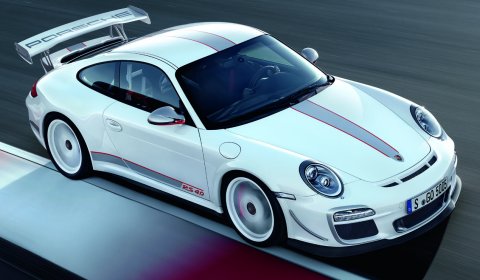 Porsche has finally introduced their 911 GT3 RS 4.0. Limited to 600 vehicles, the 911 GT3 RS 4.0 brings together all the attributes that have made the Porsche 911 GT3 a serial winner on the race track and makes it available in a limited edition road car.
The flat engine's crankshaft has been lifted unchanged from the 911 GT3 RSR racing car's six cylinder engine and the forged pistons' connecting rods are fashioned from titanium. The four-liter displacement sports engine, the biggest 911 model line engine ever, is also the most powerful naturally aspirated engine with 125hp/liter. It achieves its maximum power of 500hp at 8,250 revs per minute. The engine delivers its maximum torque of 460 Newton metres at 5,750rpm.
The 911 GT3 RS 4.0 makes it round the Nürburgring-Nordschleife in 7:27 minutes. The 911 GT3 4.0, available exclusively with a six-speed sports transmission, sprints to 100km/h from a standing start in 3.9 seconds, its gearing designed for the racing circuit taking it to the 200km/h mark in under twelve seconds.
Equipped as standard with light weight components such as bucket seats, bonnet and front wings made of carbon fiber, plastic rear windows and weight-optimised carpets, the two-seater's ready-for-road weight is a mere 1,360 kilograms with a full tank of fuel. At 2.72kg/hp, the 911 GT3 RS 4.0's power-to-weight ratio thereby dips below the magical threshold of three kilograms per hp.
The limited edition 911 is painted white as standard. Specific characteristics are the wide track, the low vehicle position, the large rear wing with adapted side plates, the typical central twin tailpipe and the aerodynamically optimised body. The lateral front air deflection vanes, so-called flics, making their first appearance on a production Porsche. They create increased downforce on the front axle. As a result, at top speed, aerodynamic forces exert an additional 190kg pushing the 911 GT3 RS 4.0 onto the road.
The first new Porsche 911 GT3 RS 4.0 cars will be delivered to German customers from July 2011. The base list price is 149,900 Euro excluding taxes.